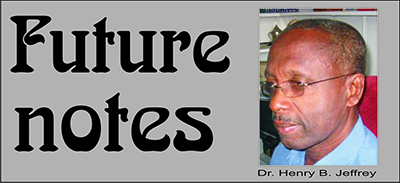 In his column in Kaieteur News on Sunday, Dr. David Hinds claimed, "The WPA, of which I am a part, is still committed to power-sharing as a political solution to our problems. That logic drove us into a difficult alliance with the PNC and later with the AFC. …. But the failure of the Coalition to live up to that expectation is most disappointing. … Further, from an ethnic standpoint, constitutional reform of governance could assure African Guyanese some insurance against institutional marginalisation from power. That their political leaders don't see that simple dynamic speaks to a political backwardness that has always baffled me."
I wholeheartedly agree with David, for only last week this column concluded, "During the 2015 elections, the coalition – particularly the PNC and WPA – gave the impression that it understood Guyana's constitutional needs if democracy is to be maintained and the interests of all ethnic groups are to be secured. It promised to deal with this by way of constitutional reform and … shared governance. It has, however, reneged on this commitment (and) has placed the security of even its most ardent supporters at risk…."
Providing an insider's perspective, Dr. Hinds also informed us that "we are not likely to get any serious constitutional reform of governance from this coalition unless the decision-making process is opened up to allow the interested forces within the coalition to meaningfully participate. I don't see that happening … The current leadership of the government does not want the WPA and the progressive wing of the PNC anywhere near the real exercise of power." 
Please note that in 2015, only the PNC and WPA were historic supporters of shared governance, and that is still the position today. Therefore, now that those two parties have for all intents and purposes abandoned this mission, are those who supported the coalition because they believe that constitutional reform and shared governance are vital to also abandon their quest: to quietly accept the fact that they have been disenfranchised on this issue that is essential to the future peace and prosperity of Guyana?  The question is David: what now?
Over the years, this column has paid particular attention to Sri Lanka (SN: 03/03/2011, 17/11/2013, 14/01/2015), one of a group of countries (Fiji, Malaysia, Northern Ireland, Belgium, etc.) usually defined as bicommunal – having two large ethnic groups constituting over 75% of the voting population that are usually at political loggerheads, as in the case of Guyana.  Recent developments in Sri Lanka are symptomatic of how difficult these countries are to manage, but taking into consideration the pessimism expressed by Dr. Hinds, they also offer the APNU+AFC regime a moral and practical way to fulfill their manifesto commitment by 2020.
Briefly, Sri Lanka has a population of about 22.5 million, of which 75% are Sinhalese, 15.5% Tamils and 9% Moors. Given the size of the Sinhalese majority, the struggle for national political power has largely been within this group. For decades, the major protagonists had been the Tamils, who are mainly located in the North of the country, and their struggle for independence. Civil war between the two ethnic groups was quelled in 2009 with, by some counts, the loss of some 100,000 lives, and demands for an international investigation into what actually took place are still being made.
Recent events portray quite a few similarities with the situation in Guyana. In 2015, a coalition of parties, led by Maithripala Sirisena and Ranil Wickremesinghe, promising to form a government of national unity, surprisingly took power from then President Mahinda Rajapaksa, their Sinhalese compatriot who, with Sirisena a previous acting defence minister, had been responsible for victory over the Tamils. The coalition's victory is said to have resulted from a shift in ethnic minority voting. (Incidentally, former president Bharrat Jagdeo led the Commonwealth team that monitored those elections of 8th January, 2015.)
Having lost, Rajapaksa was determined to use every opportunity to demonstrate that he still had majority support in the country, so he utilised the local government elections held last February to trounce the ruling coalition.  Some 57,000 candidates from 13 registered parties and independent groups contested 13,374 seats in 341 local council bodies.  Rajapaksa's party won 231 local councils and 3,369 of its candidates were elected as councillors. Prime Minister Wickremesinghe's party won 34 councils and 2,385 members were elected. The two parties the president represents won only nine councils. (http://www.eastasiaforum.org/2018/03/10/beginning-of-the-end-for-sri-lankas-coalition-government/http://www.eastasiaforum.org/2018/03/10/beginning-of-the-end-for-sri-lankas-coalition-government/)
In a coalition already wracked by internal bickering, President Sirisena sacked his coalition partner, Prime Minister Wickremesinghe, and appointed former president Rajapaksa as prime minister. Commentators have argued that notwithstanding the importance of Rajapaksa's local government win, it was coalition disunity, caused by the president and prime minister both seeking to consolidate the position of their parties that was responsible for the fallout. Perceptions of coalition corruption and ineffectiveness were also widespread. "Not only did they fail to deliver on their campaign promises, but they also failed to bring before the law the individuals of the Rajapaksa regime who stand accused of corruption and abuse of public office" (Ibid). Not without some justification, Wickremesinghe, who has the majority in the parliament, claims that the president does not have the authority to dismiss him and so far has refused to resign. 
Like many persons socialised in the Westminster way of doing politics, I initially opposed shared governance because of what I viewed as its potential to grow into dictatorship. But since accepting that it is unavoidable in countries like Guyana, I have argued and continue to argue that it should only be established where strict constitutional checks and balances, including more restrictive presidential immunities; stronger separation of powers; more and better constructed individual constituency representation; meaningful post-elections coalition possibilities; rotating or co-equal presidency; enhanced protection of the judiciary; accountable elections financing rules; reform of the elections commission; strict formulae for financing local democracy; properly designed so-called 'independent' constitutional and service commissions; rules to prevent governments from arbitrarily increasing their own pay, etc., are established beforehand. Indeed, believing that the regime was serious about constitutional reform after the 2015 elections, I went so far as to oppose inviting the PPP/C to be part of the government until such reforms were made, arguing that it would play a better role in opposition as the reform process proceeded.
However, three years have passed and nothing meaningful has occurred and only the simpleminded are likely to again accept promises from the coalition that the relevant constitutional reforms will be made if it wins another term.  Thus, to avoid such blatant fabrications, a 2020 elections process that promises to be very unpleasant, dividing us even further and given that what may be illegal in Sri Lanka is quite legal here, I propose a course of action that will immediately begin to provide ethnic political security for all groups and offer a good opportunity for the "progressives" in the PNC and WPA to both private and publicly make constructive and forceful interventions.
Be it only at the local level, now that the parties are for the first time since 2015 individually testing their strength at the polls, the president should utilise the results to reshuffle the government, offering the prime ministership and an agreed upon number of ministers to the party that – apart from his – gains the highest votes at the November 12th local elections. The next largest party, which is most likely to be the AFC, should not be discarded, but in keeping with the coalition campaign promise, the process of electoral reform should immediately begin and end in time for the 2020 general and regional elections.
Comments can be sent to henryjeffrey@yahoo.com
Around the Web