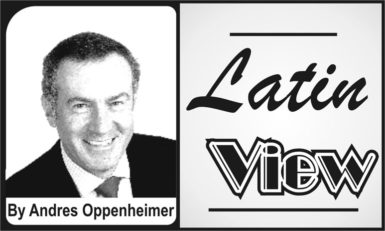 When Chile's President-elect Sebastian Pinera told me that Chile may become Latin America's first developed country by 2025, I was skeptical. But I found that, on second thought, his forecast might not be outlandish.
Pinera, who was inaugurated on Sunday, is a right-of-centre business tycoon who has already served as president from 2010 to 2014. In an interview he told me that his goal will be "to recover the leadership and dynamism we have lost in recent years" and "to transform Chile into a developed country by 2025."
To its credit, Chile reduced poverty from almost 40 percent of the population at the end of Gen. Augusto Pinochet's dictatorship in 1990 to 11.7 percent in 2015, by most measures more than any other Latin American country…..
To continue reading this article
Comments

When I saw a demonstration of Domino's pilot program to deliver pizzas with driverless cars last week, I wondered whether governments around the world are preparing for the massive job disruption that this new technology will bring.

Amid the national debate over gun control in the aftermath of the Marjory Stoneman Douglas High School shooting that left 17 people dead, there's one detail that has received too little attention: the fact that the mass killer repeatedly made white supremacist and Nazi-like comments on social media.

A senior at Marjory Stoneman Douglas High School weeps in front of a cross and Star of David for shooting victim Meadow Pollack while a fellow classmate consoles her at a memorial by the school in Parkland, Florida, U.S.

When I read that British Prime Minister Theresa May appointed a minister of loneliness, my first reaction was to laugh.

The gloves are off. After decades in which the United States largely looked the other way, the Trump administration has decided to confront China over its growing influence in Latin America.