There is a key scene in "Darkest Hour" that will either make or break the film for viewers. To be fair, it's the only moment in the two-hour long film where the narrative gets sentimental, but it's a moment of sentiment the film needs to propel itself into its resolution.  New British Prime Minister Winston Churchill must decide if he will discuss negotiations with Germany, which is gaining power over Europe, or risk the deaths of thousands by going to war. As he considers his options, he makes an impromptu visit to the tube to ride with the common man. The symbolism here is heavy. He puts forward his strategy on the train and their responses are, typically, full of chutzpah and verve as one would expect in a moment like this. As the scene played out, I could feel Joe Wright's direction, Dario Marianelli's music, and Anthony McCarten's script all focusing on eliciting an emotional response from me. The scene was overflowing with patriotic importance and I knew I was being played. And, yet, I was moved by the scene, by its place in the film and its larger message.
Appreciating this moment is key to understanding just how the thrill of "Darkest Hour" works. "Darkest Hour" does not have much that's new or revolutionary to say about politics, about war, or about men. I think it's important to start with this point. This is a film that, content-wise, is hardly innovative. And, yet, it is just as important to say that I was thrilled for most of its run time by this very straightforward film about politics, about war, about duty and about the world.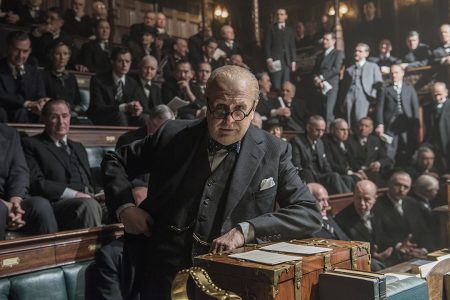 The time is May 1940, Winston Churchill has been given the post of Prime Minister after the British parliament loses faith in Neville Chamberlain. He has an uphill battle as Germany is wreaking havoc across Europe, Britain is trying to stave off defeat, and the Americans – yet to join the war – are no help. It is an unenviable position to be in. And, so, Churchill must pull a miracle from out of nothing. Ostensibly, this is a film about the beginning of Churchill's time as Prime Minister.
Most that will be spoken of the film centres on Gary Oldman, who plays Churchill. It's the kind of volcanic performance that threatens to consume everything in its path, complete with monologues to emphasise its grandeur. Behind pounds of makeup and a growl that's not quite Churchill but not Oldman, the actor has turned in the type of performance that awards bodies tend to fall in love with. It's no doubt that after recent Golden Globe and SAG Award wins, Oldman seems to be hurtling to an Oscar win. It would not be undeserved, but it seems unfortunate, even bizarre, that so much of the writing on the film is centred on him when the film around him is offering impressive things often on the edges. For one, "Darkest Hour" is easily one of the most technically impressive features of 2017. Faced with a script from McCarten that's good, but very much prosaic (it's really just a string of scenes of men talking in rooms), Wright's conceit is to use the technical aspects of the film to turn this into a quasi-action movie. It begins with the music. Dario Marianelli has worked impressively with Joe Wright since his debut with "Pride and Prejudice." "Darkest Hour" depends on its music more than any 2017 release except for "Baby Driver." The music overwhelms the senses, pulsating throughout, creating tension and building mood in a way that qualifies but does not distract. And in a film like this where the music overwhelms, it's the moments of complete silence that threaten the mood. The cinematography and editing crosscut brief scenes of military combat with scenes of verbal combat. The scenes in parliament are shot like battle scenes; the darkness shrouds the screen, drawing us to the few places of light. It's excellent work from the technical team.
Around Oldman, there are excellent turns like Ben Mendelsohn as the beleaguered King George, and Stephen Dillane as the pernickety Lord Halifax. The two are in a group of excellent actors in the ensemble. Further afield there's Kristin Scott Thomas's Clementine Churchill in a sliver of a performance that pulls focus in key essential ways. In 2018, perhaps a film about her may have been more important than one about her husband, but I'll take what I can get.
One thing I think is important about "Darkest Hour" is explaining what it's not, though. The poster of the film seems to lionise this man. Look on Churchill and be thrilled by his excellence. But the film is more nuanced than that. Oldman's performance is more complex. In his first scene, Churchill barks at a new secretary, Lily James, in the closest thing the film has to an audience surrogate. The film's narrative hook is less everyone is terrible and Churchill is right and more Churchill isn't great but he's right nonetheless. It's a rocky path to take and the film's most complex aspect. It's not trying to get us on anyone's side or convince us of anyone's prominence. Instead, what it aims to do is give us a few days of a historical perspective but told with a panache and with a verve that are more than welcome.
The 21st century has seen some excellent directors making their debuts and Wright has been among my favourite. Wright's penchant for theatricality and his appreciation for the female experience has made him compelling in a different way than key British directors of the era like Edgar Wright and Christopher Nolan. I was disappointed when "Darkest Hour" was announced, to see him retreating to the stolid male world of British politics. There is no key female focus and the subject matter is too prosaic for his usual work. But from this very basic conceit, Wright has imbued the basic parts of the film with a verve that belies its focus. "Darkest Hour" may be made up of familiar notes, but when all its parts work together it makes beautiful music.
"Darkest Hour" is currently playing at Caribbean Cinemas.
Around the Web