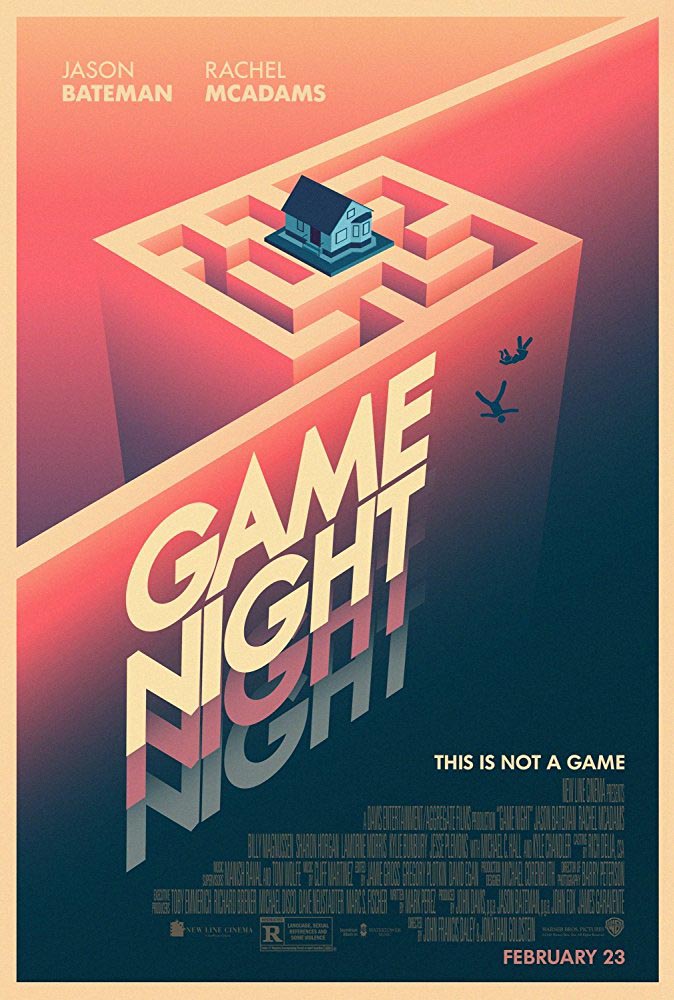 "Game Night" is the best example of counterprogramming in the cinema right now and it looks likely to be that way until probably May, assuming it remains in theatres. If you're an adult who wants to see a movie that's not a blockbuster and not geared at teens, it's your best bet and, luckily for everyone involved, "Game Night" is actually quite good. Certainly, "Game Night" might have no high ambitions to scale; it's nothing innovative in the way of socio-political or even cultural critique. Instead, "Game Night" is a mainstream adult comedy release with a perceptible visual style, with jokes that emerge from character beats, with a structure that is driven by the narrative, with visual coherence and with an interest in adult characters being adult characters and dealing with adult things. Maybe anything is possible in 2018.
Certainly, as every critic is compelled to note – "Game Night" is a comedic twist on David Fincher's "The Game." And in that vein, "Game Night" best assets are owed less to its ability to be funny in any propulsive way and more to its ability to be consistently charming and congenial. The film's plot is very much here is a group of nice persons, now spend 100 minutes with them. And this works for a number of reasons. The crux of the film rests on the Jason Bateman and Rachel McAdams couple at the centre. Max and Annie have a marriage built on their love of competition, which is kept in check by their weekly game nights. The return of Brooks, Max's older, just as competitive brother to town ups the ante. Brooks decides to veto a planned game night of the usual Pictionary+Jenga+Scrabble sort for something more high-class and exclusive. The game for this night will be an interactive murder mystery type, where the group must solve a kidnapping.
This game night kidnapping becomes all too real when enemies from Brooks' shady past become interspersed with what started out as a simple game. It all sounds somewhat unnecessarily plot-heavy when I try to put it into a log line, and the strongest asset of "Game Night" is its awareness of its potential descent into lunacy. The world these characters live in is a somewhat more sanitised, somewhat more affluent one than the average movie goer. An early scene where Brooks comments on the homeliness of Max's (very impressive) home elicited an incredulous laugh from the audience I saw it with. In that way, it's very in the vein of the sort of aspirational Howard Hawks or George Cukor comedy from the 1930s. Not so much in the way of delivery (that's an impossibly high bar to scale) but in the way of intent.
The film is very much about nice people doing silly things. Silly things, but not nasty things. It's a marked turn from its directing duo's more popular venture. John Francis Daley and Jonathan Goldstein previously co-wrote the popular "Horrible Bosses" film, which I loathed for the way they depended on the comedy of cruelty that always tends to give me pause. There is no cringe humour here and none of the all too common trend of characters in comedy trying to one-up each other with their level of nastiness. "Game Night" does not hinge on the characters having an argument, or the fabric of the friendship being ruptured – instead, the film consistently depends on the interaction and appreciation that the team have
Around the Web