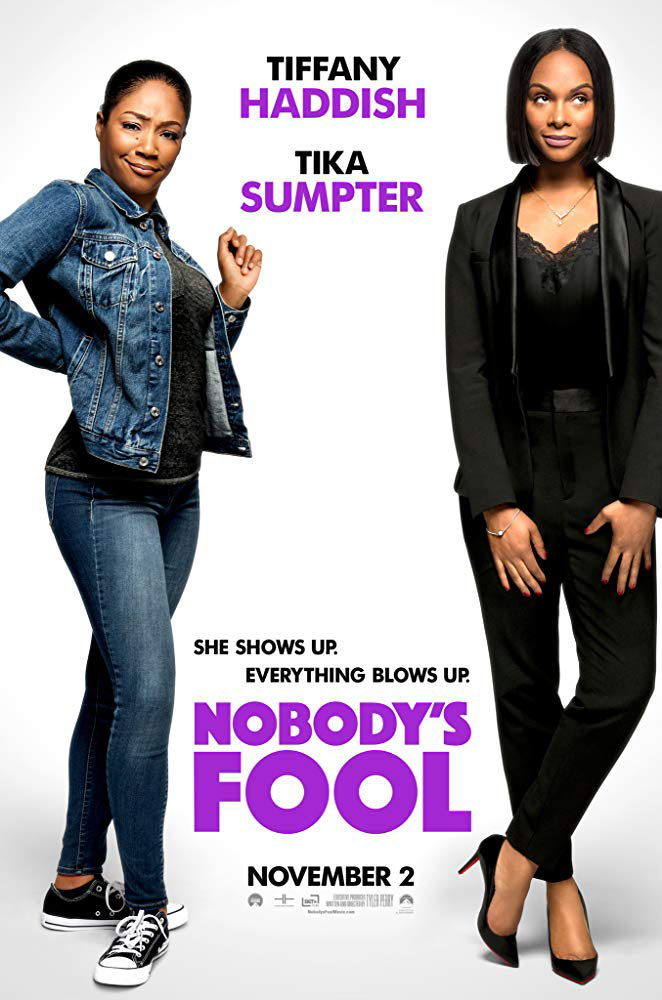 Tyler Perry has released 19 films in the last 12 years. He has his own production company and his prolific output seems indicative of the great commercial demand for his films. And, yet, for all the success of his films, his latest is astonishingly inept as a piece of filmmaking. I'm no Perry savant but I've seen enough of his work to find the regression of his work in "Nobody's Fool," a part-romance, part-comedy that feels like a concept in search of a script, strange.
The film's issues can best be summed up in the difficulty of explaining it in a sentence. Best put, it's about recently released convict Tanya trying to save her sister Danica from what seems like the results of catfishing. Except that does not quite explain what the film is really about. But what the film is about is secondary to how the film works, or doesn't work as the case may be. "Nobody's Fool" immediately sticks out from Perry's other works as the first R-rated comedy of his career. This is more significant than it might sound, when Perry's entire authorial voice is marked by his didactic focus on religion and morality as the most valuable virtues for his characters in the resolution of his stories. I'll admit, more than the R-rating, it was another typically winning cast that lured me to the theatre. If nothing else, from his best (the very chaotic "For Colored Girls," where Perry isn't able to completely neuter the power of the original play) to his worst, Perry's films attract excellent casts.
"Nobody's Fool" is no different but it's also significant to mention that the cast members are hard at work spinning multiple plates on multiple hands to make their characters tenable. "Nobody's Fool" isn't as ensemble focussed but it features the intrepid Tiffany Haddish in another role that cashes in on her irresistible and irrepressible natural charm, and Tika Sumpter, who continues to search for a film role that completely recognises her value (she's great in a peripheral role in David Lowery's "The Old Man and the Gun" this year). Add Whoopi Goldberg in an all too rare, and all too brief comedic role and rising stars Omari Hardwick (excellent in "Sorry to Bother You" this year) and Mechad Brooks (whose career really should be somewhere better after a reliably compelling turn on "Desperate Housewives" a decade ago). If I seem distracted by the other things this cast has been cast in, rather than the film at hand, it's not accidental.
The film's incoherence is one of its biggest issues and for all the laughter of the packed theatre I saw it with, I'm not sure if it's even a rewarding film. It's significant that the press and advertising for the film has emphasised its female focus. Not just an R rated comedy but an R rated comedy with a female focussed interest. This is significant and valuable in a film industry where black women are too rarely allowed to show desire and independence at once. But despite the top billed female stars at the centre, "Nobody's Fool" features Perry's consistent inability to imagine women. He writes and directs the film, and the representation of a woman's desire is… limited.
The film opens with a lingerie-clad Sumpter bopping along to Janet Jackson's 'Miss You Much', and what should be a nice confident-boosting dance is bathed in a gaudiness that screams male gaze. It's a regular morning routine that should be part of Danika's own trueness. It should reflect a moment of truth for this anal retentive struggling to keep her life under control. Except, the moment is so self-conscious, so aware of of its audience, directed with the tones of a director trying to show they can do "sexy" or "racy" on-screen, it ends up  being uncomfortable and awkward. When one of the opening shot zooms in on her breasts, punctuated by the sound of a man in the audience involuntarily emitting a murmur, I knew we were in trouble. The opening strikes the key note for the film, though. Both in reference to Perry's own inelegance around sex and sexuality and the film's own confusion in relation to its women.
For all his female focused films, I'm not too sure Perry really gets women – or contemporary women. Perry's films tend to only understand women in relation to the men around them. The heroines of his stories must learn that good men exist and a woman needs one. The villainesses are damned because they do not realise this. More than women, though, Perry does not quite get comedy. This may seem bizarre to say about the man who gave us Madea, but beyond Perry in drag, his directorial or writing sensibilities lean into morality plays and melodrama. And so, there are two films here. A raunchy comedy about a just released jailbird and a melodrama about a woman who must realise the man she needs is right in front of her. Neither are very good, and both are exasperating. It's no surprise that the hardworking businesswoman with her very clear demands for a life-partner must reveal her social ineptness and realise that she's too much of a frigid termagant before she finds love. And, it's no surprise that when the film's resolution comes, the entire thing feels as if it's been going on too long.
But what of the packed audiences? The laughing crowds? And the clear success of this film heading into its sixth (!!!) week in local theatres? It's not the job of the critic to yuck anyone's yum. And, it's inarguable that "Nobody's Fool" fills a gap for adult focussed black entertainment that is so rarely available. But considering, the inherent ineffectuality and myopia of the film, the ineptness of "Nobody's Fool" smarts in the shadows of the "what-ifs": the possibilities of black entertainment that has a more earnest, sincere and thoughtful engagement with women, sexuality and comedy. Meanwhile, Perry is currently in post-production for his twentieth film. And there's nothing we can do to stop him.
"Nobody's Fool" is currently playing at Caribbean Cinemas Guyana
Around the Web