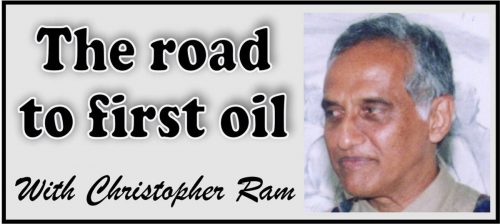 Part 31  
Introduction
I must start this week's column by publicly complimenting the painstaking and excellent work done by the technical staff of Ram & McRae in comparing, line by line and word by word, the 1999 Janet Jagan's Agreement with Esso and the Raphael Trotman's 2016 Agreement with Esso (not Exxon), Hess and CNOOC. I must also acknowledge that the Ministry of Natural Resources published on its website the annexures to the 2016 Agreement. What it has not published is the Bridging Deed which features prominently in the Agreement, nor has the Ministry published the Prospecting Licence granted to the companies collectively as a group or caused its existence in the Official Gazette as required by law.
Those who have been following the news about oil discovery since June 2015 would have read or seen Trotman on the television with a straight and sincere face that he renegotiated the 1999 agreement by tweaking it here and there and that the only substantive change was an increase in the bonus from 1% to 2%. The comparison shows that Trotman either does not know the meaning of tweaking or – and pardon the strength of my language – he is a compulsive liar. First of all, there was no tweaking of the 1999 Agreement. The 1999 Agreement was completely replaced but to enable the oil companies to retain the benefits thereunder, a Bridging Deed was proposed by Esso and accepted by Trotman.
It would be tedious to readers and take several columns to identify the several significant differences between the 2016 and the 1999 Agreements and the annexures. A general observation between the two Agreements is that while the 1999 Agreement was with Esso, the 2016 Agreement is with three companies – Esso, Hess and CNOOC, each of which will have Affiliated Companies which can benefit from the concessions and facilities under the Agreement. It is also worth noting that none of these three entities have incorporated a domestic company and each has its registered office at the same address – 62, Hadfield and Cross Streets, the same address as Hughes, Fields and Stoby, Attorneys-at-Law.
Now for some of the ….