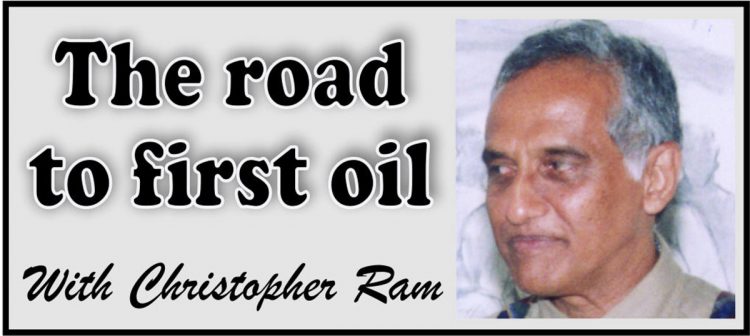 Size
Column 36 published on Friday February 16, concluded the comparison of the 1999 and the 2016 Agreements proper. Today's column therefore turns attention to the Annexes to the Agreement. Both Annex A and Annex B deal with the Contract Area, Annex A giving a description of the Contract Area while Annex B sets out a map of the Area. The term "Contract Area" in both Agreements is identically defined as the area that would be subject to a Prospecting Licence and a Production Licence.
The 2016 Agreement states that the Contract Area is 26,806 square kilometres while the 1999 Agreement describes it as comprising 60,000 square kilometres, a huge difference. I have written to the Guyana Geology and Mines Commission seeking a clarification on the difference.
Meanwhile it should be noted that an ExxonMobil news Release dated February 8, 2018 gives the gross acres held offshore in Guyana at 11.5 million, which is greater than the Contract Area stated in the 2016 Agreement. The explanation I believe is that the Release seems to make no distinction between acreage in which Esso/Exxon was the original licencee (the Stabroek Block), and where it is not the primary licencee but in which it has an interest (the Canje and the Kaieteur Blocks). Nor does it take account of the percentage shares in the Blocks whether as primary licencee or buy-in. For example, in the Stabroek Block, having sold 55% of its interest to Hess and CNOOC, Esso holds 45% of that Block while in the Canje Block and the Kaieteur Block it acquired interest of 35% and 50% respectively.
In both Agreements, Annex C – Accounting Procedure….
To continue reading this article
Comments

Introduction In this the 39th column I wrap up the comparison of the 1999 and 2016 contracts by looking at Annex D which is completely new in the 2016 Agreement.

Introduction Column 37 which appeared last week dealt with the classification of costs and as indicated there, attention now turns to what Annex C describes as Pre-contract costs.
Introduction Readers will recall that Article 27 – Applicable Law, was addressed in Column 29 which is available on the website of the Stabroek News as well as on chrisram.net.

Government inaction now constitutes force majeure! Today we take up from Article 24 which deals with force majeure, the definition of which is set out in paragraph 2.6.

Just a reminder that this series within a series seeks to compare the Janet Jagan administration's 1999 Agreement with the Trotman 2016 Agreement and as we closed last week's column we were on Article 20.