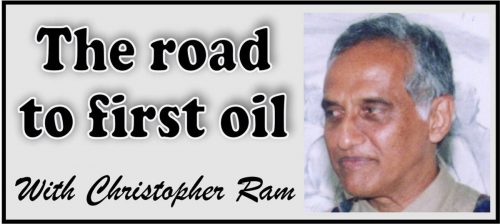 Introduction
During the recently-concluded United Nations General Assembly in New York, USA, the Guyana Delegation led by Foreign Minister Carl Greenidge facilitated a meeting between the Governor of the Bank of Guyana and representatives of Merrill Lynch, the investment arm of the Bank of America Corporation which had expressed an interest in Guyana's proposed Sovereign Wealth Fund. It was not so much that Greenidge facilitated the meeting, or that Finance Minister Winston Jordan would most likely have also attended had his diary permitted, but rather the enthusiasm and expansiveness with which Greenidge subsequently reported on the meeting. Greenidge at a Press Conference on his return to Guyana, promoted the banker's "variety of expertise in the setting up of such funds, and providing options for collaboration that they can offer."
But Greenidge was not done yet. He touted Merrill Lynch's capacity and extensive experience in the management of the equivalent of sovereign wealth funds, reminding the Guyanese media that Merrill Lynch was no stranger to Guyana and that when he was the minister of finance in a previous government, the investment division facilitated the Bank of Guyana and the Bank of America working together. Such gratuitous high level endorsement in an emerging oil economy must be anyone's dream.
Yet, at home, Jordan and Co have crudely and blatantly refused to engage and listen to Guyanese's concerns and recommendations on the petroleum contract as well as the Natural Resources Fund proposal. But yes, of course, Merrill Lynch is big, it is powerful and it has that colour for which we all seem to have a pronounced complex.
Gaskin
Sadly, Greenidge is not the only Minister in the news on oil and gas this week, demonstrating administration for foreigners and disregard for fellow Guyanese. Speaking to a large delegation from Newfoundland, Canada at the Canadian High Commissioner's residence last Monday, Minister of Business Mr. Dominic Gaskin gave his usual spiel and disdain for Guyanese who pretend to know about oil and gas, even as he expressed admiration for and expectation from Canadians visiting from Newfoundland, Canada.
Perhaps readers will best understand if the relevant part of Gaskin's presentation is stated in his own words, since to paraphrase it is to invite the criticism either that it is incorrect or that one is being mischievous. Here is what the honourable Minister said:
"Guyana has never produced oil before. We are not an oil economy and the truth is we don't know much about oil and gas because we have no real experience, good or bad, as a people or economy in this sector. And I know Dr. Bynoe alluded to experts and I know that some Guyanese may wish to pretend that they have all the answers and solutions and they are the local experts in the oil and gas industry. But in the absence of a deep and wide-spread understanding of the industry, their views fill a void and occupy more space than their limited experience and expertise should warrant.
"And while I applaud their efforts to improve their own knowledge of the sector, I believe the situation does highlight the need for many, many more Guyanese to learn very well so that we can fill that void with a more broad based pool of knowledge. And in this regard, I think we can learn a lot from those who had experienced what we are about to experience both at the Government and private sector level."
Minister Gaskin seems to have something about Guyanese and his attack on locals is a reprise of what he did at a PSC Petroleum Conference earlier this year. I challenged him then on a telephone call and he offered to apologise to me by way of a letter to the press, an honourable gesture which I declined. Second time around does not deserve such decency or leniency. 
The absurdity and self-condemnation in Gaskin's remarks are so obvious that, on reflection, even he must be embarrassed. To take the Minister at his word, the nearly thirty ministers of his Government, which include the President's Oil Quintet, "do not know much about oil and gas because [they] have no real experience, good or bad, as a people or economy in this sector" Yet, this very Government, which by its own admission has no knowledge or experience in oil and gas, two years ago, signed one of the largest petroleum contracts in the world in the last decade!
As a measure of how little the Government knows about basic negotiating, let alone oil and gas, this was a de-risked, post-discovery give away of the people's rights. Worse still, a Government of no knowledge or experience of oil and gas, or it seems taxation, agreed to pay the taxes of an American oil company which operates with all the attributes of a colonial state.  
Gaskin goes further. Because he and his colleagues have no knowledge or experience in oil and gas, he not only assumes that other Guyanese are similarly incapacitated, but that only those who now exercise power as the colonial masters did, have the answers and the solutions. 
Dr. Mark Bynoe
The final example was probably more subliminal, less direct and not a little confused. This was delivered by Dr. Mark Bynoe, the Director of the Department of Petroleum in the Ministry of the Presidency. Speaking at the same function as Minister Gaskin, Dr. Bynoe said that he would not encourage the Government or the private sector to pursue advice received from the "many experts", even if well-intentioned.
The trouble for Dr. Bynoe is that while he is telling "many experts" that they will be wasting their time, he seems to have confused the distinction between advice and "evidence-based facts and cogent information". By his definition, if someone were to tell him that to give excessively generous tax breaks are bad for our country, he would respond that such self-evident truth does not constitute evidence-based facts.  
Conclusion
The attitude displayed by these two senior Ministers and the senior oil and gas man in the Executive, does not augur well for meaningful participation of large swathes of the Guyana population. Bynoe will simply not encourage the Government to take advice that is not evidence-based. Our Foreign Minister will promote and big up those with a certain profile, while Gaskin will continue to demonstrate contempt for his fellow Guyanese, all of whom he considers as pretenders, and who, on the next occasion when Gaskin speaks, will probably be called charlatans and ignoramuses.  
Something is really wrong with our country when seasoned professionals are considered pretenders by ruling politicians with no training, knowledge or experience. What people like Gaskin are doing is a dog whistle to the likes of ExxonMobil that don't worry, we will take care of the local mudheads.   
Around the Web