At a brief dedication service yesterday, the staff and ministers of the Ministry of Public Health (MoPH) gathered in the ministry's compound to pray and make declarations for the improvement of the public health sector, a report from the Department of Public Information (DPI) said.
They also paused to seek God's wisdom and guidance for the new year, DPI added.
Senior Minister of Public Health, Volda Lawrence, felt it was necessary to host such a session before venturing into the new work year. She said "This service is not to be disrespectful to any other person within the ministry who worships in a different way."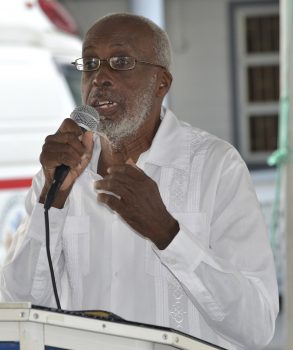 Lawrence added that the successes gained by the ministry in 2017 are owed to prayer and acknowledgment of God in everything that was planned to be accomplished. She noted that the ministry ended 2017 having expended almost the entire 2017 budget on improved health services.
Lawrence said, "Everything that has been decreed this morning shall come to pass, not because I say so, but because I believe so, I believe that the word has gone forth with power and strength in the might of God".
The brief thanksgiving ceremony was blessed by historian and pastor of the South Road Full Gospel, Dr. Winston McGowan, who declared that 2018 will be a year of "Stunning Success" for the Public Health Ministry.
"The Ministry of (Public) Health like all the other ministries, you have had a lot of outstanding successes," McGowan noted. In light of all of these things, the pastor indicated that the workforce of the MoPH should collectively, give thanks to God.
During prayer, those in attendance prayed for the success of not only the ministry but for the nation as a whole, DPI said.
Dr. McGowan left with the staff three key principles for 2018. – (1) always express gratitude; (2) Seek God's wisdom in decision-making and; (3) Look to God continually for every need in going forward with their mandate.
Minister Lawrence declared that for the Ministry of Public Health, 2018 is not only a new year but represents new beginnings, new things and a new attitude.
Around the Web