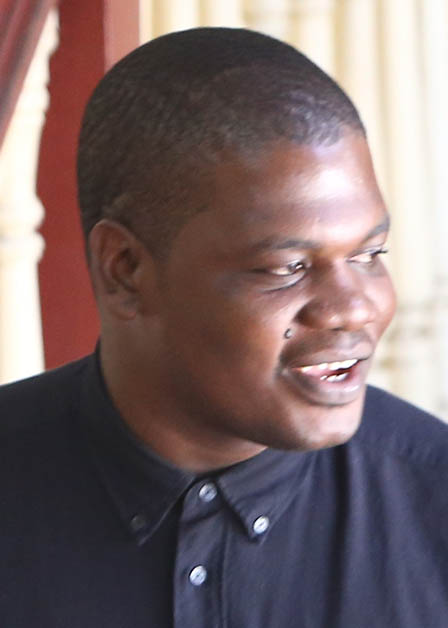 The attorney for Zamani Archibald, the Guyana Defence Force (GDF) rank charged with causing the death of a pensioner who was struck down along the Soesdyke Public Road last March, yesterday told a city court that the victim perished due to his own actions and not as a result of the way in which his client was driving.
Archibald is on trial for allegedly driving motor pickup DFB 1566 on March 11, 2017, on the Soesdyke Public Road in a manner dangerous to the public, thereby causing the death of Harry Persaud.
When the trial continued yesterday before Magistrate Judy Latchman in Georgetown, defence attorney Leslie Sobers, in his closing arguments, argued that the prosecution failed to prove its case. He noted that the prosecution has not established recklessness by the defendant or that his client had been speeding at the time of the accident.
According to Sobers, the testimony of the prosecutor's only eyewitness should not to be relied on.
The attorney added that the link between the defendant's driving and the death of the complainant was slight and not substantial.
Persaud's death, Sobers further went on to state, was caused by his own actions and not Archibald's driving.
Police prosecutor Vishnu Hunt subsequently requested time to review some of the testimony that would have been led in his absence.
This request was later granted by the magistrate.
Prior to his closing arguments, Sobers called the defence's final witness, self-employed land surveyor Timothy Fisher.
Fisher gave no evidence in relation to the accident itself, but testified in relation to a plan he created after surveying the scene of the accident, having received the point of impact and other relevant details from Archibald and Sobers.
The court learnt through cross-examination by Hunt that the information that Fisher received for the plan was provided by the defendant and Sobers, who also paid him for the work done.
Additionally, Hunt noted that in his evidence Fisher stated that he kept the plan in his storeroom, which was accessed by a key he kept on him but he did not state if anyone else had access to the storeroom or if anyone altered or tampered with the plan.
Sobers attempted to have the plan ad-mitted into evidence while Hunt objected.
Magistrate Latchman, after considering both arguments, stated that the plan was not relevant to the accident, which occurred on March 11, 2017 and that she would not allow it to form part or parcel of the case.
The matter will be called again today.
Around the Web