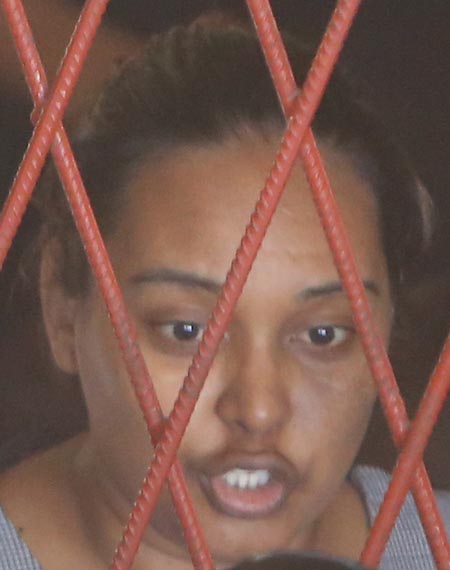 Former Muneshwers Limited Travel Service agent Priya Lall, who was accused of defrauding customers of millions and fleeing the country, was yesterday charged with three counts of embezzlement.
Although Lall, of Lot 20 West Ruimveldt, had been accused of defrauding over a dozen customers of a total of $9 million, she was only read charges for allegedly embezzling a total of $610,000 from the travel service when she was brought before Magistrate Judy Latchman in Georgetown.
It was alleged that on October 16th, 2017, being a clerk or servant at Muneshwers Limited Travel Service, Lall fraudulently embezzled the sum of $380,000 that was taken into her possession for or in the name or on account of the travel agency.
It was also alleged that on September 13th, 2017, she embezzled the sum of $158,000. And lastly, it was allegedly that between September 1st, 2017 and September 30th, 2017, she embezzled the sum of $72,000.
Lall was not required to plead to the charges as Police Prosecutor Gordon Mansfield indicated that there are other charges that are likely to be brought against her.
Mansfield told the court that at the time of the crimes, Lall was employed as a travel agent with Muneshwers and was paid the various sums of money by persons for two-way tickets to the United States. He added that the customers later travelled to the United States and while there they called the company to inquire about their return flights but were told that there were none. This resulted in them having to seek alternative means to return to Guyana. Upon their return, they reported the fraud to the police, who were subsequently unable to find Lall here.
Mansfield told the court that checks with immigration revealed that she left the country on October 21st, 2017. He said she returned sometime after an application was made by the police for her to return.
Although Mansfield objected to bail being granted, while calling Lall a flight risk, Magistrate Latchman granted her $300,000 bail, representing $100,000 on each charge, with the condition that she lodge her passport.
The matter will be heard again on February 9th in the courtroom of Magistrate Leron Daly.
Police had previously said that the accused allegedly collected monies from various customers who were paying for their tickets. Instead of the original tickets, the customers were reportedly given a print out of fake return tickets.
One of the customers, Yolanda Bess, took to Facebook to complain about her plight. She explained that on July 29th, she went to the travel agency to purchase a return ticket and was required to pay $169,000. "I dealt with a customer representative… She give me a print out of two tickets of which my return was a fake print out. In addition to that she gave me all assurance that my flight [is] confirmed," Bess said in her post.
She went on to state that she subsequently called the airline only to hear that her details were not in their system.
"So I called the travel agency to query my ticket. They said that …[she] no longer works with them and apparently she made a reservation for my return and cancel it, which means she stole my money and now I don't have a return ticket," Bess added.
Around the Web