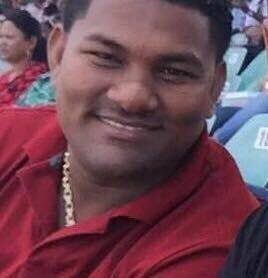 Deputy Superintendent of Police Motie Dookie has been temporarily transferred to the Strategic Planning Unit of the Guyana Police Force after being investigated for smuggling of 30 cases of whiskey at the end of December.
Acting Commissioner of Police David Ramnarine yesterday told a press conference at Police Headquarters, Eve Leary, that Dookie had been relieved of his duties as the Commander of the Special Weapons and Tactics (SWAT) Unit.
Ramnarine also disclosed that he has received numerous phones calls from members of the public asking for Dookie to be shown leniency.
"I received over a dozen calls from supposedly right-thinking people who were concerned as to when the man would be released and 'Why y'all don't give the man a break' and all kind of lawlessness they were telling me. Believe it or leave it. That is the society we have," Ramnarine said.
''On the one hand: they want to see a professional police force, they want a police force that delivers a higher or a better quality of service. But, at the same time, they are indifferent to gross wrongdoings. That is the reality of the society we live in comrade," he added.
Dookie was travelling in a minibus along the Whim Public Road, Corentyne, when it was intercepted by a police anti-crime patrol last Saturday night.
The police have said that after being stopped, Dookie indicated that 10 cases of whiskey were in the minibus and he was taking it to be used for "a party." However, a search of the minibus revealed that 30 cases were aboard. They were seized.
Ramnarine yesterday emphasised that at the time of his arrest Dookie was acting on his own accord.  "That night, I contacted his commanding officer and I was assured that that officer was on his own. He was on his own, doing his own thing, doing whatever he was doing," said Ramnarine.
It was reported that Dookie had left the precincts of the Whim Police Station after being taken into custody but returned the following morning.
Ramnarine clarified that with the rank that Dookie holds, it was not uncommon or totally improper for him to be allowed to leave the barracks room for a few hours.
He further noted that the case is still being investigated by the Guyana Revenue Authority.
Public Security Minister Khemraj Ramjattan has said that Dookie should be dismissed from the force.
"This is a very serious offence, committed by a senior member of the force. Dookie has violated the principles and integrity of the police force… we cannot have rogue elements like him in the force… elements like him do damage to the force," he told this newspaper earlier this week.
Dookie has been implicated in other alleged cases of wrongdoing and Ramnarine said yesterday that the rank should be concerned since his personal file is in the press.
Dookie had taken over the leadership of the SWAT unit from Deputy Superintendent Lonsdale Withrite, who was relieved of the post after being robbed at gunpoint last October of his loaded service revolver and his car. Withrite was on the Industry, East Coast Demerara seawall, where he was pounced upon by three bandits, who robbed him. Police found the car on the Ogle Airstrip Road, on the East Coast of Demerara, a few hours after the robbery. It is unclear if the weapon and ammunition were ever recovered.
Around the Web