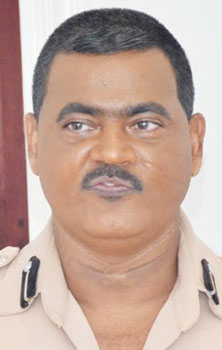 Acting Police Commissioner David Ramnarine yesterday reported an overall 11% decrease in serious crimes for last year compared with 2016.
"We believe that it is very significant because prior to the last two weeks of December, 2017, we were hovering constantly at a 10% decrease and for us to achieve that additional 1% at the 31st of December, quite a lot of work had to be done," Ramnarine told a press conference yesterday at Police Headquarters, Eve Leary.
"So, the citizens of this country should be satisfied that while they were entitled to their entertainment, while they were entitled to their fun and frolic, the ranks of the Guyana Police Force gave an extra effort to reduce crime further. And I will tell you, I did not see in the newspapers for the last two weeks of December that much blood and gorge splashed on the front page…," he added.
Serious crimes include murder, armed robbery, robbery with violence, robbery with aggravation, rape, kidnapping, larceny from the person, break and enter and larceny, and burglary.
Ramnarine noted that there was an 18% decrease in murders, with the total moving from 142 cases in 2016 to 116 in 2017.
Also of significance was that of the 116 cases recorded, 88 of them were solved, which Ramnarine applauded his ranks for.
"This percentage has been very high for the Guyana Police Force and for this country for quite a long while and we believe that this ranks among the highest solve rate or clear up rate anywhere in recent times," he posited.
Commenting on the occurrence of armed robbery involving the use of firearms, Ramnarine said the police force recorded a decrease in reports from 729 in 2016 to 665 last year. There was also a 10% decrease in reports of armed robbery involving other instruments, with 278 cases recorded in 2017 against 306 in 2016.
There was also a dip in the number of break and enter and larceny cases recorded last year, with the total moving to 1,049 reported in 2017 from 1,275 cases in 2016.
Rise in carjackings 'worrisome'
However, Ramnarine did voice concern at the increase in the number of cases of armed robberies where motor vehicles were stolen, popularly known as carjackings.
"In the last two months of the last quarter of 2017, we saw an increase and it was worrisome. We took no comfort over the fact that in 2015, there were 31 cases, in 2016 36 cases and in 2017, 47 cases. We have not taken comfort in the fact that there were just a few more reports in 2017. No, we deem it to be unacceptable; we note that of the 47 cases, 16 were Toyota Premio motorcars and 8 were Toyota Allion models," the acting Com-missioner of Police said.
"But I wish to indicate that in December, 2017, from good investigative work, we saw two persons arrested and charged; one with three counts and we currently have a case between 'C' Division and West Demerara, 'D' Division, with one person who is under investigation," he added.
There was also an increase in reports of robbery with violence, with a total of 135 reports made in 2017 against 108 that were recorded in 2016.
Robbery with aggravation also saw an increase of 36% in 2017 with a total of 87 cases recorded in 2017 against the 64 cases that were recorded in 2016.
Meanwhile, Ramnarine also noted a significant reduction in Trafficking in Persons (TIP) cases, with the total number moving from 38 in 2016 to 14 cases in 2017.
"We believe that the reduction in TIP is fundamentally a result of awareness through visits, educational programmes, provision and access to much needed training both local and foreign; Robust implementation and execution of the National Acton Plan for trafficking in persons and greater cooperation and collaboration among the agencies of the Ministerial Task force on TIP," Ramnarine said.
Around the Web