After twenty years of waiting on a radio broadcast licence, television broadcaster Chandra Narine Sharma was yesterday granted a licence along with Kaieteur News and four others.
"After 20 years we now get a licence. After 20 years. We took 20 years to get a licence….I am happy, I should thank President [(David] Granger for that," an emotional Sharma said as he collected his licence yesterday at a handing over ceremony at the Guyana National Broadcasting Authority (GNBA) head office.
The other four companies granted both broadcast and frequency licences yesterday were the Pinnacle Group, owned by Alfro Alphonso, Brutal Communications Inc. of Brutal Tracks Recording, Blackman and Sons Inc (Hoyte Blackman Television Channel 9) and Two Brothers (the Slingerz Group).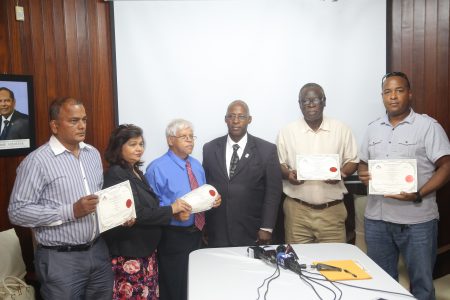 Chairman of the GNBA Leslie Sobers explained that the new licencees comprised persons who have never had radio licences before. "Many of these applicants, their applications were lingering for a number of years, and we went through the files and recognised that it is only fit and proper that they be considered, and all things being equal, they have brought themselves into full compliance with the regulations governing the issuance of radio licences," he said.
Sharma's lament of waiting long for a licence was echoed by two other companies, Kaieteur News' National Media and Publishing Company (NMPC) and Brutal Communications.
Christian Duncan, of Brutal Communications, lamented that his company had pitched the idea for an application under the Bharrat Jagdeo administration, when Guyana hosted Carifesta in 2008. "We got correspondence from (then Head of the Presidential Secretariat) Dr. Roger Luncheon and that was as far as it went. Nothing [happened]… we reapplied under the new broadcast legislation and our pleas have been heard and is now bearing fruit. You see, we are coming from a Guyanese music perspective and that is what we have been doing over the years. So we thought that on the merit of that we would have been able to be recognized earlier, but that wasn't so, but now we are and we are pleased.
"The Radio Station is being set up as we speak… we are waiting for our applications for the construction of mast towers to be approved, the engineers are doing the applications and the drawings and so… We envisage that by February month end we should be on air…," he added
Editor-in-Chief of the Kaieteur News Adam Harris represented the company and stressed the 18-year frustrating period his company took before their application was approved.
However, he was upbeat about the granting of the licence yesterday, saying that the company will speedily work to get on air. "Now that we have a frequency, we are now going to buy the transmitters. Early next week, we are going to go down to Florida acquire the transmitter… we could be on air within a month. At the moment, we are preparing a programme on where do we want to go. Nowadays just about every radio station is music, news, talk," Harris said.
"We want to be more rounded. So we are working on a series of things, you will get a bit from the religious community, entertainment community, because Kaieteur News is largely news, you are going to get an emphasis on news, perhaps news every hour, you are going to have studio discussions," he added.
Primary
The GNBA Chairman pointed out too that all of yesterday's operators were granted frequencies to operate in the country's primary frequency zone, which stretches from Parika to Abary. "These licences, even though they are giving out now for applications that were in the past, will entitle the holders thereof to broadcast by radio for the year 2018 and onwards. Takes effect from the January 5, 2018," Sobers noted.
Broadcasters who are not compliant with the agency's regulations were warned as Sobers said that the agency's monitoring system will be enforced and those who are in default will face the penalties.
"They were waiting a very long time and now they have brought themselves to full compliance but I trust that others looking on would recognise that things are happening and once they bring themselves into full compliance we will be licensing them," he stated.
"The converse to this, for those persons who insist, who are continually refusing or are failing to bring themselves up into full compliance, we will not issue them with licences and when we don't issue a licence we will call upon them to stop broadcasting and take legal actions against them if they do continue… they have been coming in and some are trying to work out arrangements where the backlog is a lot and they really want a grace period or payment terms. But then there are others who are quite blatant and refuse to make contact, but we will deal with them. This year will not pass… Illegal broadcasters, bring yourself into full compliance or be prepared to be taken off the air by March, that should be fair enough," he warned.
Less burdensome
And in a bid to make the registration less burdensome on broadcasters, where they would have had to re-register every year, the GNBA is mulling having the licensing period be between two to three years, according to Sobers. "We are trying to make things as easy as can be for broadcasters," he said.
"What I can say to you is that the board will be examining in this year, moving away from these annual licences. We are contemplating a longer period of licences, two to three years as a start because the law allows us to grant as many as 10 years on a single licence. And we will just thereafter strengthen our monitoring department to ensure that persons are complying with the regulations, and all that perhaps need to be done is just to stamp it," he said.
But Sharma and his wife said that if GNBA wants to make things easy for broadcasters they should look at giving new broadcasters a grace period to set up that is not included in their licensing period. "I do think that GNBA and the authorities should have thought about giving stakeholders a grace period because I don't think it is fair that you have to pay for a licence for 2018 when you haven't started up, you don't have equipment, and you have nothing. There was no permission that was granted before to say to us, we should get our act together, we should get our equipment, so now we have to go out and source and get together a whole studio and we have already paid a licence for 2018 and we don't know how long that would take. To set up, probably would be three to six months' time before we can practically be on the air. I do think that a grace period should have been given to all of the stakeholders," Savitrie Sharma said.
Her stance was echoed by her husband, who said that it was impossible after getting a call two days ago to be ready very soon after for a radio launch. "The grace period should be about six months," Sharma said
Stabroek News
Asked by reporters about the status of the application by Stabroek News, under Guyana Publications Inc (GPI), Sobers said, "Well, the spectrum in Georgetown in this primary area is limited… and of the limited number of spectrum space we have, we can't give all out, something has to be withheld for the future. So we are going to be approaching very carefully, who else will be getting spectrum space and broadcast licence in the primary zone. Look in the secondary and tertiary zones, we have a lot of space, the limitation is only for this primary area."
Later, when pressed further he added that while he cannot say offhand, he would enquire what the status of the application is as his position as Chairman does not allow him to know about individual applications. He said that persons who would be able to point out specifics on applications include the agency's Chief Executive Officer, administrative management and secretary, the licensing and information technology departments.
Stabroek News/GPI had applied more than 20 years ago for a radio licence but has been denied.  It has been in constant contact with the new GNBA board over its reapplication and had been advised that no licences were being issued to applicants who did not previously hold one. This is clearly not the case as evidenced by the awards to the six applicants yesterday.
Stabroek News Editor-in-Chief Anand Persaud said that GPI yesterday asked the GNBA to formally state the status of the company's application for a radio licence. Persaud said it was also interesting that the Chairman referred to limited spectrum space in the primary zone as it would give rise to the question of the criteria used in deciding who should be accorded the space. Persaud said that with Stabroek News having been in business since 1986 and with an unmatched record of credibility and balance in its reportage, the GNBA would have to explain why it should not be accorded space in the primary zone.
In November of last year, GNBA presented five radio broadcasters with licences for 2016, saying that they have demonstrated full compliance under the 2011 Broadcasting Act and that the move paved the way for the enforcement of the then recently-amended legislation.
Sobers had explained then that licensing would be done in compliance with the amendment of the Broad-casting Act, which became law on September 7, 2017.
Those awarded licences in November were Radio Guyana Inc., National Television Network Radio Inc. Wireless Connections, iRadio Inc. and the state-owned National Communications Network. The PPP's radio station, Freedom Radio, was also granted a licence.
Except for NCN, all the companies had been controversially granted licences by former President Bharrat Jagdeo in 2011. The iRadio licence went to former Minister of Natural Resources Robert Persaud and several relatives, who have since sold their interests to a Trinidadian media group.
Jagdeo's awards triggered denunciations, with many calling on the David Granger-led APNU+AFC coalition government which was elected in 2015 to revoke the licences and formulate a system that was impartial and lawful.
Critics had said that Jagdeo had no basis for the award of the licences as the required broadcast authority was not in place in 2011. The handing out of the licences by the GNBA to the five broadcasters in November last year was seen as legitimising the process that Jagdeo had utilised.
Around the Web