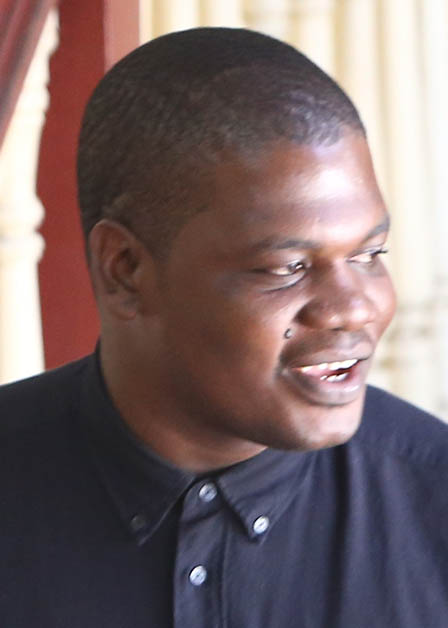 Zamani Archibald, the Guyana Defence Force (GDF) rank charged with causing the death of a pensioner he struck down along the Soesdyke Public Road last March, was yesterday sentenced to 12 months in jail for the lesser count of dangerous driving.
It was alleged that Archibald drove motor pickup DFB 1566 on March 11th, 2017, on the Soesdyke Public Road in a manner dangerous to the public, thereby causing the death of Harry Persaud, who was riding a bicycle along the road.
When the trial resumed yesterday before Magistrate Judy Latchman, police prosecutor Vishnu Hunt presented his closing arguments, urging the court to find the defendant guilty of dangerous driving. Hunt conceded that in the absence of the investigating rank's evidence, the prosecution was unable to prove that it was the dangerous driving of the defendant that resulted in the death of Persaud.
However, the prosecutor noted that the core of dangerous driving was established based on the evidence led by the sole eyewitness.
The prosecutor added that based on the eyewitness account, Archibald attempted to overtake a vehicle, crossing double yellow lines, which, according to the rules of the road was unlawful.
Hunt also urged the court to find the witnesses who testified on behalf of the accused as unreliable.
Subsequent to the prosecutor's closing submissions, Magistrate Latchman announced that evidence led by the defense witnesses were unreliable and that she placed no weight on them.
Although defence attorney Leslie Sobers, in his earlier submissions urged the court to disbelieve the evidence of the eyewitness, the magistrate noted that she found his evidence to be reliable. She further noted that she disbelieved that it was Persaud who swerved into the defendant's path.
Magistrate Latchman added that although there was no evidence of speed by the defendant, she found that he did not pay attention to the road and disregarded the double lines when he overtook the other vehicle.
However, the magistrate went on to state that there was no evidence that the person that died in the accident was Persaud although a post-mortem examination was done.
It was in these circumstances that Archibald was found guilty of the lesser count of dangerous driving.
In mitigation, Sobers urged the court to be lenient with his client, since he is family oriented and also made a commitment to face his charges.
Prior to sentencing the accused, the magistrate stated that she took into consideration the need to preserve the country's most important resource, it's people, the fact that Persaud was pitched into the air and a child was dragged and the need to prohibit others from committing the offence.
Archibald was subsequently sentenced to 12 months in jail for the crime.
Attorney Sobers then requested that his client be allowed to remain on bail pending an appeal of the matter. However, his request was denied.
Around the Web