Assistant Commissioner of Police Paul Williams has been confirmed as the new Crime Chief.
Williams' appointment to the post was confirmed yesterday by acting Commissioner of Police David Ramnarine during a press conference at the Police Headquarters, Eve Leary.
During the press conference, William was addressed as "acting Crime Chief" by a member of the media and it was at this point that the announcement was made. Before answering the question, Williams responded, saying, "I am a little bit distracted; I heard acting Crime Chief." It was at this point the acting Commissioner said, "Yes, that is true. He is the Crime Chief of the day."
Before Williams' confirmation, he acted as the head of the Criminal Investigation Department (CID) of the Guyana Police Force after then Crime Chief Senior Superintendent of Police Wendell Blanhum had proceeded on vacation leave last September.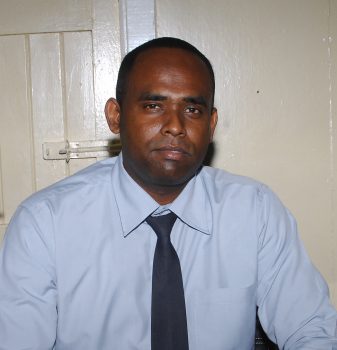 Upon his return in December last year, Blanhum was reassigned from being Crime Chief to being second-in-charge of the Guyana Police Force's 'A' Division.
The reassignment of Blanhum followed strong recommendations for changes in the force hierarchy from the Commission of Inquiry (CoI) into an alleged plot to assassinate President David Granger.
However, Public Security Minister Khemraj Ramjattan had rejected claims that the recommendations from the CoI were being implemented.
"I notice a lot of people are saying that we are trying to get rid of Blanhum. Blanhum is a serious pillar in this police force… understand that and he has done a fantastic job in the opinion of the government, in the opinion of the minister," Ramjattan was reported as saying at a press conference.
Ramnarine in December, when approached on the reassignment of Blanhum, explained, "Mr Blanhum reported for duty today [yesterday] and at this point in time it was my decision to have him repositioned because the current Crime Chief Mr Paul Williams has started the Christmas season and he is involved in certain strategies that I would like him to continue until the period is over."
In June, 2015, Blanhum was appointed the Crime Chief.
Before taking up leadership of the CID, Williams served as a divisional commander in 'B' and 'C' divisions.
Around the Web