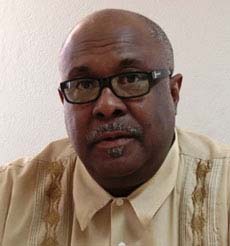 The controversial signature bonus with ExxonMobil was raised at a meeting at its Texas, USA headquarters in April, 2016 by head of the Guyana Geology and Mines Commission (GGMC) Newell Dennison.
This is according to his report on the April 4-5 meeting in Woodlands, Texas, which the government has released following questions about who negotiated the agreement for the US$18 million signing bonus.
Dennison and Manager of the Petroleum Division Christopher Lynch attended the meeting with ExxonMobil subsidiary Esso Exploration and Production Guyana Ltd (EEPGL) for what was described as a technical caucus.
In his report on the meeting, dated April 15th, 2016, Dennison reported, "I have put on the table that the rental would be significantly upgraded and opened at US$1 million per year.   Esso was obviously ruffled but I believe my rationalization was sufficient for them to give serious consideration of it. We came to a position subject to Leadership's approval that there would be the introduction of a signature bonus payable to a stated Government of Guyana Bank account for US$15 million, which caters to the associated issues."
The signature bonus ended up being US$18 million. The annual rental fee for the block was upped to US$1 million from US$240,000. Dennison's recounting of the signature bonus makes the point that it would be subject to 'leadership' approval, which would presumably be Cabinet.  It is unclear why the issue of the signature bonus would be presented to Exxon at what was described as a "technical meeting." How it was computed would also be queried. There is no indication in the brief as to the thought process leading up to the US$15 million.
In May of 2015, EEPGL had made an enormous oil find at Liza-1. Just over a year later, it made another large find in the Liza-2 well.  The size of those two finds and the prospects for others would have been seen to be significantly strengthening Guyana's negotiating hand.  At the Texas meeting the potential of the recently drilled Ranger well was already being talked about. Based on Friday's announcement by Exxon, the Ranger site has what it known as a carbonate play.  It has more than 230-ft of high-quality, oil bearing carbonate reservoir which is now being described as the single largest find in the block. Questions may well be asked as to why the Ranger site was not drilled earlier.
What further negotiations led to the increasing of the signature bonus from US$15 million to US$18 million has not been disclosed.
The report by Dennison also provided some insight into what would be seen as hard-nosed tactics by Exxon. Dennison said that EEPGL "confronted" the GGMC on the matter of their contract and licence.
"Esso then confronted with GGMC the matter of their Contract and Licence.   This was anticipated some years prior when it was obvious that in the remainder of the licence term, all the exploration work to be done could not be achieved.  This was despite their escalated intensity from 2008 when the Guyana/Suriname boundary resolution facilitated their return to activity.
"The discussed and accepted mechanism to deal with this situation was the use of a bridging Agreement while switching from the current licence and agreement to a new one. It was recognized that Esso was very uncomfortable with a transition. It requires an appreciation from Guyana's side that Esso expects that the economics of (the) Liza prospect and Ranger, or whichever other discovery may emerge from the exploration drilling that is being done alongside "pre-appraisal" definition, during the remaining 2 years of the current agreement would be preserved. Esso is keen to ensure that there is a grandfather arrangement in that regard.   (My perspective is that it would be a fair expectation and Esso should be given that assurance)," Dennison reported.
Dennison said that it was pointed out that the current agreement with Esso was in several ways out-of-date with what prevails administratively in Guyana and that an approach to Esso in 2010/11 to deal with that was politely declined.  The fact that Esso declined in 2010/11 – under the Bharrat Jagdeo administration – to amend the agreement will likely raise questions as to why it did not update then.
Royalty
Dennison's report also raised the question of the royalty to be paid, which was amended in the new agreement.
"It was put on the table that there were some fiscal reviews being done presently and while they would not be concluded before the contemplated finalizing of the new agreement and licence, it would be necessary to include certain principles.   A provision for a royalty in a contemplated hybrid PSA (Production Sharing Agreement) was mentioned and in the context of ensuring that Guyana is not at disadvantage in a high oil price environment in the future.   Esso was not at all receptive to that, however, it was left on the table (I have the view that there may be a fair chance to model some notional improved royalty to kick in, but I also speculate that in the environment of deep water, deep target development, the price of oil would have to go up significantly before the departure of the financials that prevail now and what could materialize becomes of material consequence)," Dennison reported.
Dennison also acknowledged that the GGMC would need technical support and was open to EEPGL providing help in an "arm's length" procedure.
"The matter of an expert to render technical support to GGMC since development plans have to be analysed and production proposals have to be looked at in detail (found) favour with Esso.  They were disposed to financing that kind of assistance for GGMC at arm's length so that the consultant would be totally independent of Esso", Dennison said.
This seeking of expert help via EEPGL would be seen as completely inappropriate as it should be a cost financed entirely by the government or through some international body not associated with EEPGL.
Near to the end of his report, Dennison stated: "For Esso to start spending, the replacement petroleum licence and agreement is needed, along with the undertaking that the Development Plan and permitting would be done in good time." This underlines that Exxon's subsidiary would not start spending until the new agreement was signed giving it a 10-year extension on exploration, an expanded stability clause, which has raised concerns and other matters.
Around the Web