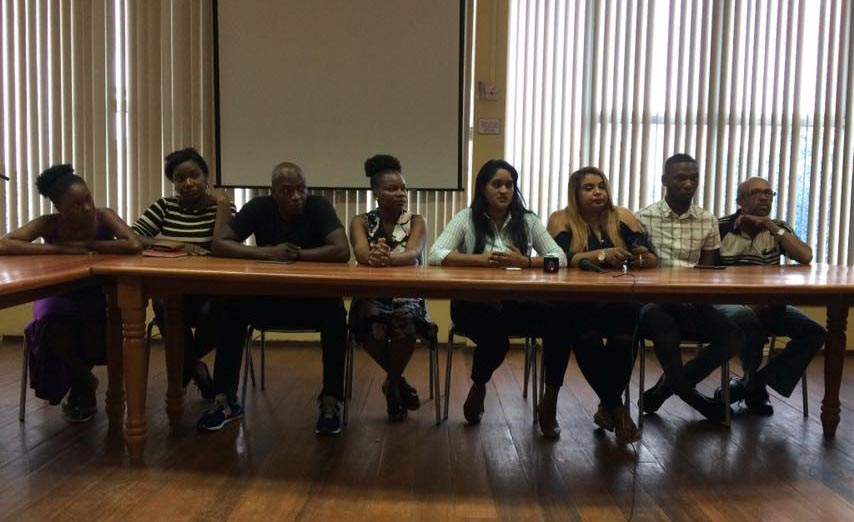 The Guyana Press Association (GPA) yesterday elected its first female president and a new executive body at its biennial elections held at the National Racquet Centre on Woolford Avenue.
Journalist and News Presenter of Prime News, Nazima Raghubir was elected as president after her nomination was uncontested, the first female president in the 45-year history of the organisation. Raghubir in the past served on the executive body. Raghubir also serves as a floor member on the Association of Caribbean Media Workers (ACM).
Elected to serve under Raghubir's Presidency are Stabroek News senior journalist Zoisa Fraser as Vice President, Newroom's Editor-in-Chief Fareeza Haniff as Treasurer, and HGPTV's Broadcast Journalist Royden James as Secretary/Treasurer.
Guyana Chronicle journalists Svetlana Marshall-Abrams, Ariana Gordon and Rawle Toney along with veteran journalist Denis Chabrol of DemeraraWaves were elected as members of the executive body.
At the conclusion of yesterday's election, Raghubir in her acceptance speech said that during her tenure she would be working collectively with members to address issues affecting the press association.
She stated that she would like to see the constitution of the press association reformed to accommodate changes unfolding in the press landscape.
Further, she stated that she would be working to broaden the membership of the association to include correspondents from the three counties, workers who are not seen as media practitioners because of the definitions in the constitution.
Additionally, under her administration she would like to look at the financial sustainability of the GPA.  According to Raghubir, she and her team will push for more training opportunities for journalists and "one of the critical things over the years we want to look at, is the professionalizing of the media and journalists in the country."
Meanwhile, outgoing president Neil Marks challenged the new executive to establish a secretariat as he believes such an asset would allow the GPA to execute its mandate.
Marks in his report credited the executive with successes in the areas of training, advocacy and the holding of what is expected to be annual media awards.
The election of the new executive body was initially scheduled for December 2017 but due to the lack of a quorum it was postponed. A quorum was in place yesterday.
Around the Web