A private sector initiative on Wednesday distributed 200 hampers of food and household items to the residents of Canal # 1 affected by the floodwaters on December 22, 2017.
Many properties were still under water on the day of the distribution, a release from the private sector team said.
The hampers contained:
rice contributed by Beni Sankar;
potatoes, onions and carrier bags supplied by N.S. Mattai and Co. Ltd.;
disinfectant supplied by New GPC Inc.,
cooking oil by Deodat Deokinandan of West Bank Demerara;
whole plucked chicken supplied by Power Producers Inc.;
flour supplied by National Milling Company Limited (NAMILCO); and
bread, tennis rolls, bleach, drinking water and sugar by Bakewell.
The distribution took place at the residence of Mahendra Joe Seenan.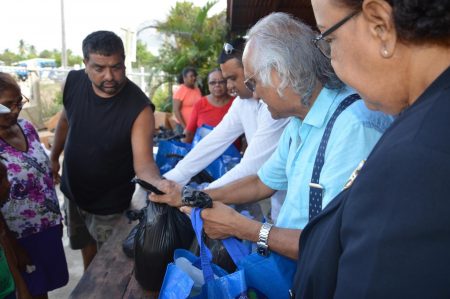 Prior to the distribution, the release said that members of the private sector did a brief walk around of the affected areas and witnessed the continuing misery being suffered by the residents. Brief remarks were made by Dhanraj Beepat, Chairman of the Canals Polder NDC; Mr. Deokinandan who hails from Canal No. 1,  Elizabeth Alleyne, Executive Director of the Private Sector Commission and Christopher Ram.
Also in attendance were Bertie Sukhai, Country Manager of NAMILCO, Roy Vontholl of Bakewell, representatives from Region 3 Administration and Dennis Mayers of the Region 3 Chamber of Commerce.
In his remarks Ram, who spearheaded the initiative, said that the help was a mere token compared with the level of suffering and the needs of the community but that the collective private sector wanted the people to know that their suffering and forbearance had not gone unnoticed. He also said that from all reports received, this was a manmade disaster caused by neglect and negligence which should have been avoided.
Ram thanked the donors and the members of the community who at very short notice organised the event, and the recipients.
Ram also disclosed that efforts are currently underway to organise help and support for the sugar workers of Wales Estate whose employment was terminated by GuySuCo, and their families, particularly children, whose education and future may be affected.
Around the Web