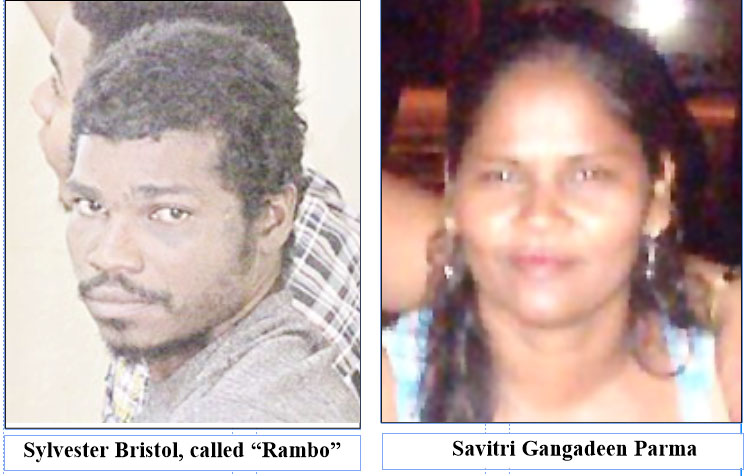 Sylvester Bristol was yesterday sentenced to 16 years behind bars for the killing of taxi driver Savitri Gangadeen Parma, who was found strangled at Dakara Creek, Linden-Soesdyke Highway.
Appearing before Justice Navindra Singh at the High Court in Georgetown, Bristol, called 'Rambo,' accepted that between February 15th and February 16th, 2014, he unlawfully killed Parma.
He was indicted for murder but pleaded not guilty and copped instead to the lesser offence of manslaughter. His plea was accepted by both the prosecution and the court.
Parma's body was found around 6 am on February 16th, hours after she went missing.
She had informed her husband that she would be making a drop to Red Loam. Parma's car was discovered with her sleeping eight-year-old son in the backseat, shortly after she had gone missing. A subsequent post-mortem examination revealed that she had died from ligature strangulation.
Prosecutor Tiffini Lyken, who presented the facts, which were not contested by the defence, stated that Parma was found naked with a bamboo inserted into her vagina. It had penetrated her uterus.
Her belongings were found just close by.
The court heard that Bristol was seen early in the morning in a disheveled state, coming from the area where Parma's body was found.
He had been wearing only one shoe. After being arrested by public-spirited citizens, Lyken said that the man was taken back to the area where Parma's body was discovered. His other shoe was found there.
The court was also told that a missing lace for one of his shoes was found some 12 feet away from Parma's body and it was consistent with what used to strangle the woman.
The prosecutor asked the judge to consider the gruesome nature of the act committed by the accused in delivering his sentence.
She noted, too, that Parma was the mother of two minor children and that her murder was perpetrated not so far away from one of those children.
After listening to submissions from both sides, Justice Singh imposed the 16-year prison sentence, with remission for time Bristol spent on remand awaiting trial.
Bristol was represented by attorney George Thomas.
The state, meanwhile, was represented by Lyken, in association with Abigail Gibbs and Natasha Backer.
Around the Web