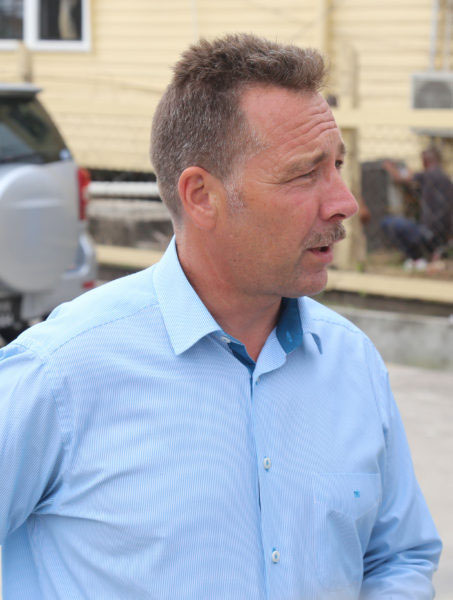 Finding a process to expedite the over 300 cases that the Special Organised Crime Unit (SOCU) is currently working on is high on its advisor Sam Sittlington's agenda as he feels the delays are an injustice to both the people at the centre of the investigations and the police conducting it.
"Those time delays are unfair to the people who are the subject and the police who are conducting those investigations," Sittlington told reporters yesterday, at a press conference to announce his return to SOCU, which was held at British High Commissioner Greg Quinn's residence.
He said that he will be meeting with the special prosecutors to "try and find a way for a process of expediting those cases to get them back to the subject and decision making, whether they will be charged as well. It is important in terms of human rights as well."
Sittlington has returned to Guyana at SOCU through assistance from the Government of the United Kingdom, to continue a project aimed at strengthening the operational and investigative ability of SOCU, with a view to increasing the effectiveness of Guyana and its ability to tackle money laundering, terrorist financing and other serious crimes.
He informed that he would soon be meeting with Police Legal Adviser (PLA), Retired Justice Claudette Singh, who is currently on leave and Director of Public Prosecutions (DPP), Shalimar Ali-Hack to determine the cause of the delays in processing cases.
The Irish crime expert pointed out that while he has only been back at SOCU for one day, he was concerned that many of the cases initiated when he was here last year were still with either the DPP or PLA.
"They have a lot of cases, over 250 cases, over 300 cases now. Unfortunately for SOCU, they have been inundated with a number of forensic audits. To date they have 26 forensic audits, four of those forensic audits have gone to charges, people being charged. Only in those four cases you are looking at sums in excess of $116B so there is quite a substantial amount of monies involved in these types of cases. The other 22 forensic audits, you are looking at somewhere in the region of $170B. As well as those cases that SOCU has they have had 39 referrals from the FIU (Financial Intelligence Unit) only two of those cases have gone to court; that doesn't mean to say when they get a referral from the FIU that there is an immediate investigation. But they have to carry out some form of investigation to establish there is a case and then take advice on charges as the case may be," he said.
"There is significant emphasis on the role of SOCU and their successes. They have done a lot of work since I was here last year and many of the cases they have worked on are sitting either with the DPP or the PLA, it seems to me and I have only started back yesterday…I am trying to get the handle on why cases I was looking at last year at this time are still sitting either in the PLA's office or the DPP's office," he added.
He pointed to a possible reason for the lag which he had noted since last year i.e. the special prosecutors recruited by the government, the DPP and the PLA all had differing views on the same case and it made it hard for the police to know what aspects needed remedying.
Three legal minds
"One of the things I established before I left last year is that SOCU has the use of special prosecutors. Now, when you have special prosecutors who have a view on a case which is different from the DPP's view, which is also different from the PLA's view, then you have to look and find out what is going on here. Three legal minds with different views on a money laundering type case. So, I need to get to the bottom of that and try to establish why they have these different views and what sort of evidence structures they are looking for to take a case to court," he posited.
Further, he added, "Those kind of delays are in my view are unfair and unfair to the people who are subjects of those investigations and unfair to the police who conducted the investigations because they don't know where they are going wrong. So we need feedback from all three departments."
He explained that while SOCU deals with the money laundering aspect of cases, that crime is often a subset or spin-off of others such as corruption, tax evasion, fraud, drug trafficking.
"SOCU's role is to investigate the money laundering aspect of those cases but because of the lack of experience in this area, they seem to be doing everything and that puts more pressure on them and makes these types of cases more challenging," he noted.
He also made reference to recommendations he had made last year to ease the burden of law enforcement authorities but which seemed to have fallen on deaf ears.
Sniffer dogs
One such, which would not have cost much financially was to have sniffer dogs at the airport to identify money launderers and to have a dedicated attorney at SOCU.
"Money is laundered from gold smuggling in Guyana which is your commodity, (and)  may be involved in oil in the future, smuggling across borders and we have known from last year of cases of gold being smuggled through the airport. One of my recommendations two years ago at the airport was to get cash dogs and at the borders so that they can sniff out cash. It is very successful in the UK and other European countries; it hasn't been recommended yet," Sittlington said.
"There are a number of other recommendations that I made last year which although approved have not yet been implemented. One of them is to get an in-house lawyer in SOCU because the five special prosecutors that we have also have private practices and so they are conflicted between two different areas. So ideally, we want one good lawyer in SOCU who can work with the cases from a cradle to crib process. They can finalize the case before it goes to the PLA or the DPP and try to quicken that actual process of getting a case to court," he added.
According to the advisor, there are a number of things which are out of the control of SOCU and the slothful court process using archaic means of filing and records  was only one in a line of many.
He said, "The court process is abundantly slow and one of the reasons for that is when a magistrate is taking evidence on the case is because she has to write her own notes …so they can only sustain that for short periods. So therefore, a case that was running last year, is still running this year. In fact, I was in court yesterday where the magistrate is still taking notes. It is a cumbersome process and unfair to the subject of the case and the police who are trying to give evidence from memory of things that they did during the course of that investigation. In the UK we use a stenographer to take notes which allows the magistrate the freedom to take reminder notes which quickens the process. Also that they can stay with the case longer during the day and shorten the actual court time."
"I know an individual has a right to have as many lawyers as they want in a court room and sometimes, it looks ridiculous when an individual has twelve or thirteen lawyers defending him. In the UK we have one senior or junior lawyer to look after a case. So, trying to give evidence in these types of cases where several lawyers are asking questions about the same case …it just becomes a very tedious, long process," he added.
But albeit all the challenges, Sittlington said that he is eager to get back to work at the agency and to share his expertise.
Around the Web