A woman and her two daughters were last evening left in disarray after a fire of unknown origin gutted their two-storey home at Schoonord, West Bank Demerara.
The woman, Angela Carr, broke down in tears yesterday afternoon while relaying to Stabroek News the events that led up to the fire at her Lot 469 Schoonord, West Bank Demerara residence.
According to Carr, who has been living at the property for the past six years, her daughters were at work and she was at the corner of her street in a car heading home when the driver pointed out the fire.
An alarm was raised and neighbours reportedly formed a bucket brigade as attempts were made to douse the flames while awaiting the arrival of fire tenders which were also summoned.
Carr noted that the origin of the fire remains a mystery since the firemen at that time could not determine the starting point of the conflagration.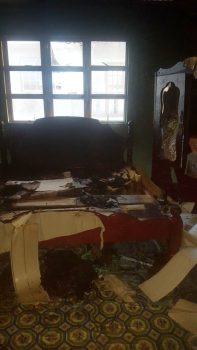 "We had some issues with the lights last night and this morning with it going on and off but I don't know if that has anything to do with how this fire start; I don't have any enemies or anything so I don't want to think someone did this to us," the woman shared.
Carr has estimated her losses to be in the millions as almost all of her property was either destroyed by the fire or drenched in water during the efforts to extinguish the flames.
"All my documents and even the lil money I had hide away in my suitcase them burn up in the fire…I really don't know where we are going to go from here tonight, I really don't know," she added.
Around the Web