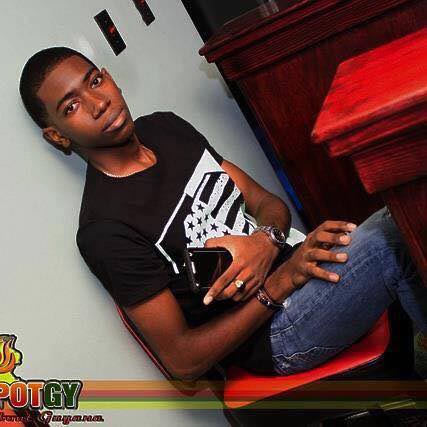 The police have launched a murder investigation into the death of Korner Kick Restaurant and Bar manager, Tevin Parris following a post-mortem examination yesterday and one individual has been taken into custody for questioning.
Divisional Commander Marlon Chapman yesterday afternoon confirmed with Stabroek News that the injury sustained by Parris is not consistent with that of suicide and as such the investigation has taken a turn.
The autopsy was performed yesterday morning by Government Pathologist Dr. Nehaul Singh at the Georgetown Public Hospital mortuary.
The police in a statement yesterday said that the autopsy revealed that Parris died as a result of "a single gunshot, where the warhead entered his right nostril and exited the middle of the head".
"It was not self-inflicted", the statement added.
A male who is said to be a friend of Parris was yesterday afternoon arrested for questioning. He remained in custody up to press time.
Parris, 21, of Lot 66 Garnett Street, Kitty, Georgetown was on Monday morning discovered dead in his house with a gunshot wound to his head.
Stabroek News was told that Parris' lifeless body was discovered in a bedroom located in the upper flat of his house by an uncle around 8.20am on Monday.
A gun was found next to his body and Chapman had previously told this newspaper that Parris was not a licensed firearm holder.
However, when asked about the firearm yesterday, Chapman said investigators have not yet been able to determine the origin of the firearm nor who it belongs to.
The police have also swabbed Parris's hands for gunpowder residue but details of the findings are unknown.
The police had initially said that Parris's death was being treated as a suicide.
However, the young man's family was convinced that he didn't take his own life and had called for a thorough investigation.
"My son was bought up [in] a God fearing life and even when I am stressing he does comfort me," his mother Natasha Bernard had said. "Suicide? Never! Never!" she declared.
"Money is not an issue. He was running his family business. He had Visa again and he ain't even want travel. Meh son ain't got no problem. I would be the disgusting one. He does always be there to comfort somebody or help somebody," Bernard had said while adding, "I lost his father and I get by, but now if you tell me is robbery I gone say yes but suicide never…there is a living God.
Parris managed the family's business which is located at the corner of Bent and Lime streets, Georgetown.
He was said to be part of the Golden Smile Family promotion team which hosted a flashback party last Saturday at the National Park.
Investigators are also expected to question relatives of the dead man and his friends who participated in the event as they work to determine the motive for the crime.
His body was yesterday handed over to his relatives for burial.
Around the Web