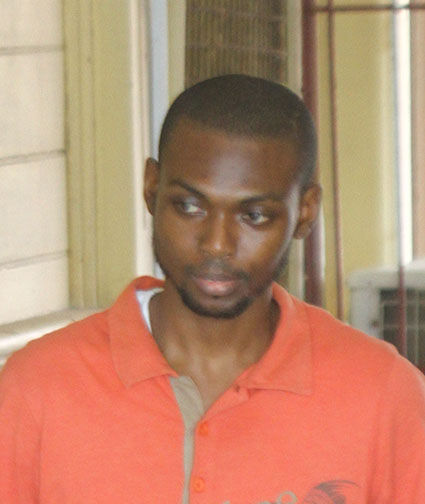 Twenty-eight-year-old Quincy Massiah, called 'Akeem,' was yesterday sentenced to 10 years in prison for the 2014 killing of music cart operator, Trevor Raghubir, whom he stabbed in the abdomen.
Appearing before Justice Navindra Singh at the High Court in Georgetown, Massiah denied that on November 28, 2014 at D' Urban and Camp streets, he had murdered Raghubir. He, however, pleaded to the lesser offence of manslaughter, accepting that on that day he unlawfully killed Raghubir, called 'Dougla Boy,' with whom he also worked as a music cart operator.
When asked, the accused confirmed that he had discussed his decision to plead with his attorney. He said that no one was forcing him, and he understood that he would be sentenced to a period of imprisonment for the offence.
The prosecution's facts which were not disputed by the defence, stated that on the day of the killing, Massiah inflicted the fatal stab upon his co-worker during an argument over a hammock.
Presenting the state's case, was Prosecutor Abigail Gibbs who said that the accused became angry when Raghubir told him about his mother.
Unable to control his anger, the court heard that Massiah dealt his coworker a lash, before plunging a knife 13 centimeters long into his abdomen; from which he collapsed to his death.
Confronted by police, Gibbs said the accused admitted to the crime, stating, "I just juk this man with this knife."
After the case against Massiah was presented, Justice Singh noted that the factual basis for manslaughter had been established and that his plea would therefore be accepted.
Mitigating on behalf of his client, attorney George Thomas sought to describe the circumstances under which the young man was brought up, beginning with the loss of his mother who was murdered, when he was just seven years old.
Thomas told the court, that when his mother was attacked in their home, the young Massiah sought refuge under his grandmother's bed. Ever since, counsel said the accused seem fixated on solving that crime.
The lawyer said that after his mother's death, Massiah was cared for by his grandparents, who tried to provide him with an education, but their efforts were futile.
After they died, Thomas said that situation became even worse, as the young man was left to fend for himself.
In a passionate plea for mercy, Thomas asked the judge to consider that his client had accepted responsibility for his action at the first given opportunity, saving the court considerable time in otherwise having to conduct a trial.
Asking for the minimum sentence to be imposed, counsel also advanced that the young man had expressed remorse.
Owing to the traumatic experience which Thomas said still affects his client today, he requested counselling and psychosocial assistance for his client, for which Justice Singh said an order will be made.
For himself, Massiah, in a barely audible tone said that he was sorry for what he had done, explaining that it was not his intention to take his coworker's life.
He was quick to add that he stayed with the injured man to ensure he received medical attention.
"I wasn't expecting any death," the young man said softly.
He told the judge that Raghubir  and other persons had previously been physically abusive towards him.
For her part, Gibbs stressed that a troubled past, lack of education, or the absence of a mother do not justify taking a life, noting that the accused needed to pay for his actions.
Before imposing the sentence, Justice Singh said he agreed that neither a troubled past nor the particular circumstances of Massiah's case justify the killing.
The court said that it was nevertheless cognizant of those issues, and had an appreciation for the manner in which the events of November 28 could have escalated, taking into consideration that Massiah had been verbally and physically abused by Raghubir and others.
Though unlawful, the judge said he understood how those occurrences could have triggered a reaction, especially given the traumatic experiences to which Massiah had been exposed earlier in his life.
The judge said he believed that the accused was still mentally preoccupied with all those experiences.
Noting that he has been enlisted in anger management classes when Justice Singh enquired, Massiah was encouraged to continue attending all of his sessions.
The court thereafter gave the undertaking to consult psychiatrist, Dr. Bhiro Harry, about providing counselling in the prison for Massiah and other inmates needing such, and other related assistance, if this is not already being done.
Justice Singh sentenced Massiah to 10 years, with remission for time spent on remand awaiting trial, which has to be calculated by the prison.
Massiah and Raghubir sold music CDs off push carts around the city. He died from perforation of the aorta, due to stab wounds.
The state's case was presented by Gibbs, in association with Tiffini Lyken and senior state counsel Natasha Backer.
Around the Web