Bandits yesterday robbed a Western Union cashier in a gunpoint attack at the C&F Mall at Bagotstown, East Bank Demerara and although they came under gunfire from the business owner and were forced to abandon their getaway car, they managed to escape.
Police last evening said that efforts were being made to arrest the two suspects.
The attack occurred around 10.25 am, when the two men, one of whom was armed with a gun, entered the Western Union section of the mall, located on the top flat of the two-storey complex.
At the time, the cashier was in the cashier's cage.  The men reportedly approached her and the gunman pointed a gun at her and demanded that she hand over the cash, which she did.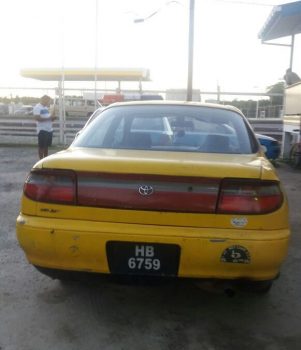 As the men exited building, the police explained that the cashier immediately sounded an alarm and the business owner, a licensed firearm holder who was in a nearby office, responded and chased after the bandits.
The police said the bandits quickly entered a waiting car, which sped through Water Street, Bagotstown and during the process, the licensed firearm holder discharged several rounds in their direction.
Police said it is unclear if any of the bandits were injured as a result of the shooting.
Meanwhile, investigators found the getaway car, which carries a hire car registration number and had several suspected bullet holes at the rear, at the Agricola backdam.
The car has since been impounded.
Around the Web