Following breaches of security during recent sittings of the National Assembly, Clerk Sherlock Isaacs has been mandated to draft and present a security protocol to the Parliamentary Management Committee (PMC) by month end.
Isaacs told Stabroek News that a meeting of the PMC's three-member security sub-committee on Monday resulted in him being mandated "to prepare protocols in respect of security at [the] Public Buildings."
Speaker Barton Scotland chairs the security sub-committee, which also comprises a member each from the government and opposition.
Opposition Chief Whip Gail Teixeira, who is a member of the PMC, said that the PPP/C's sub-committee member is out of the country and therefore her party would have not been part of any meeting.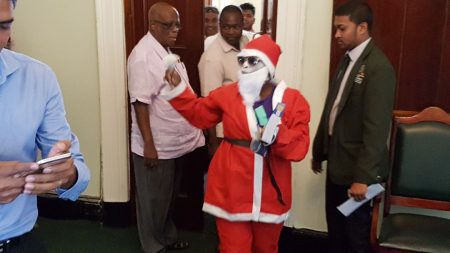 Asked about which members were present at Monday's meeting, Isaacs said only that there was a quorum.  The Public Buildings have recently been the centre of several controversies related to security. On December 8th, 2017, a woman, dressed in a Santa suit and ringing a bell, managed to storm into the Parliament Chamber as Opposition Leader Bharrat Jagdeo was making his presentation during the debate on the 2018 national budget. The Assistant Sergeant-at-Arms, who is responsible for the security of the Chamber, quickly held on to the woman, who had a dictionary in hand and led her back out. However, despite the fact that presidential guards were standing there, no attempt was made to arrest her. She is still to be identified or detained.
Almost one week later, on December 14th, another woman managed to enter the Chamber, take up seating behind government ministers and then later broke into a hymn.
Perhaps the most high profile security issue related to attempts by the Guyana Police Force to remove PPP/C parliamentarian Juan Edghill from the chamber. The entry of policemen into the Chamber followed Edghill's refusal to adhere to a ruling by the Speaker, who had directed him to leave after deeming him out of order. Some of the policemen ended up in a fracas with PPP/C parliamentarians who sought to prevent Edghill's removal.
Around the Web