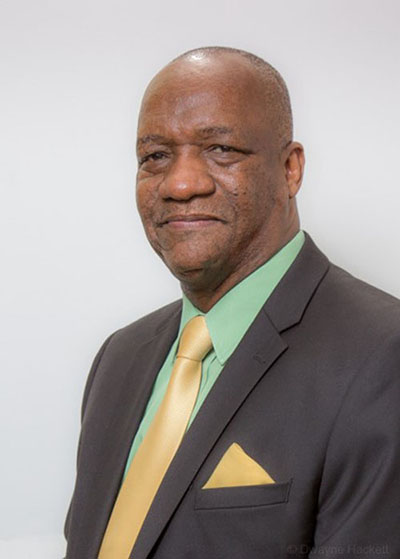 Although warehouses in the compound where Guyana's Honorary Consulate is located in Puerto Ordaz, Venezuela, were looted just after noon on Wednesday, Minister of State Joseph Harmon yesterday said that the government has received no reports that diplomatic staffers feel threatened.
Stabroek News was told that staffers of the consulate were terrified when looters broke into the compound, armed with sledgehammers.
The looters broke large steel doors leading to warehouses in the compound and emptied them of their contents. As these events unfolded, the staff remained trapped indoors.
Patrick Husain, the Honorary Consul, was able to call the police, who arrived shortly after, allowing the trapped staff to make a quick getaway with most of the office's valuable documents and seals.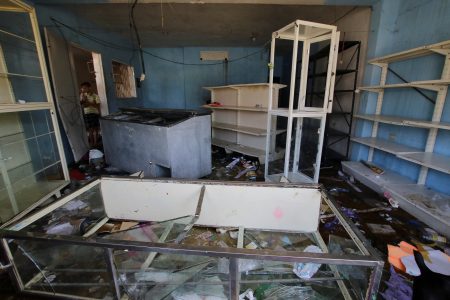 At yesterday's post-Cabinet press briefing, Stabroek News questioned Harmon about government's knowledge of the situation in Puerto Ordaz, which has been reported by international media since Monday.
In response, Harmon said that Puerto Ordaz "has always been a hot point" and noted that the government was "in touch with the Consul" and is prepared to assist where needed. "If we felt that life, limb and property of Guyanese who are there [were at risk] and [they] require assistance of the government to relocate to Guyana, we are prepared to provide that service," he said.
According to the minister, an estimated 12,000 to 25,000 Guyanese live in southeastern Venezuela and they do not wait for government intervention when threatened but instead travel to Region One on their own.
"In the event that something overspills in Puerto Ordaz, what I can say to you is that we have made arrangements at our side of the border to receive those residents and even Venezuelans who are fleeing from violence in those communities; we have an international obligation to provide certain limited facilities for them," he, however, stressed.
Asked specifically about security measures in place to protect staff posted at the consulate and the Embassy in Caracas, Harmon said, "I am not aware that our staff has actually made a request to say they feel threatened or that their security is affected."
He stressed that it was the responsibility of Ambassador Cheryl Miles to determine what is considered to be a security situation that is untenable.
"I am not aware that it is a hardship posting. Right now, we have not had such a report and we believe that Bolivarian Republic continues to provide security for our embassy staff and the workers there," Harmon said.
According to a January 9th, 2018 Reuters report, lootings and scattered street protests hit the Ciudad Guayana in southeastern Venezuela amidst growing unrest in the once-booming industrial city, which has been plagued with food shortages and a malaria outbreak.
"At least five food stores were looted overnight, with police sources saying some 20 people had been arrested. Angry Venezuelans also blocked three major roads to demand anti-malaria medicine, food, cooking gas and spare parts for trucks," the report stated. It further noted that there has been increasing unrest around the South American OPEC member in the last few weeks as a fourth straight year of painful recession and the world's highest inflation leaves millions unable to eat enough.
Shelves in Venezuela are empty, which leaves those few who are able to access funds without produce to purchase. This situation necessarily affects those posted both at the Consulate and at the Embassy in Caracas as they too are unable to purchase food and other necessities.
These members of staff are also subject to the dangers resulting from rioting and looting as they must travel Venezuelan streets when working.
In August last year, Stabroek News had questioned Minister of Foreign Affairs Carl Greenidge about what safety measures his ministry had put in place to protect staff.
In response, the minister said that government tries to pay attention to safety concerns. He, however, declined to elaborate on what measures have been taken to ensure that staff members are safe, saying that he did not want to give details but the ministry is trying "to take those steps to implement prudent actions which won't inflame or compound the situation."
Around the Web