The ongoing rehabilitation of the Arthur Chung Conference Center (ACCC) will be completed on time and Minister of Public Telecommunica-tions Cathy Hughes says the facility will be recommissioned in May.
The ACCC was closed from December, 2016, to facilitate US$6.7 million (approximately $1.4 billion) in repairs over an 18-month period.
The Ministry of Public Telecommunications has announced that Hughes and members of the Project Monitoring Committee for the rehabilitation were given a tour of the facility last Friday by the Engineering team from the China Civil Engineering Construction Corporation, which was contracted by the Government of China to execute the rehabilitation of the Conference Center.
The ministry said General Manager of ACCC Ramdial Nancoomar provided additional information on the new sections and services that have been added to the complex, including a fully equipped computer room, and new press and translator booths in the main auditorium.
The latter, also called "the Dome," the ministry noted, is being completely re-designed from floor to ceiling. It said it will now hold 372 new seats affixed to the floor, the foundation for which was raised by close to two feet. It added that the floor of the entire complex was similarly raised, and thousands of new granite tiles are being laid.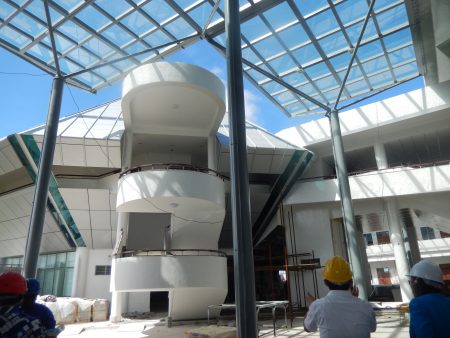 Minister Hughes was reported as saying that she is anxious to hand the building back to the Guyanese people in May. She described it as part of Guyana's historically close bilateral relations with the People's Republic of China, which the Government of Guyana would like to sustain.
The touring party also included representatives of the Foreign Affairs, Business and Public Infrastructure ministries.
The complex, which had been constructed between 2004 and 2006, was a gift to the people of Guyana from the people of China.
The rehabilitation (projected for the end of the 10th year of use) had been written into the 2004 agreements between the two countries, and like the construction, it is being funded entirely by grant aid from the donor country.
The ministry said it is expected to invite the local media to tour the facilities in February
Around the Web