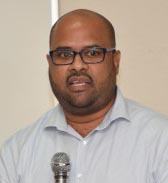 Minister of Foreign Affairs, Carl Greenidge says that complaints by Director of Public Information, Imran Khan on his Facebook page about an Indian conference for MPs of Indian origin do not augur well for diplomatic relations between Georgetown and New Delhi.
He said this is more so coming on the eve of a planned bilateral meeting scheduled to be held in India.
While Indian High Commissioner to Guyana, Venkatachalam Mahalingam has publicly responded to Khan's Facebook post questioning why ministers of government were not invited to the conference, the Indian High Commission here  has not formally complained to the Ministry of Foreign Affairs.
However, "I haven't seen any complaint and I think it is a foreign affairs matter," Greenidge told Stabroek News yesterday when asked.
"It is a delicate matter and especially so because I am about to go to India. It affects relations, it affects the mood and it can sour the relation and that is why I am saying to you it is a foreign affairs matter and I don't believe any of the others had a right pronouncing," he added.
In the post, Khan not only questioned whether the High Commission was interfering in Guyana's internal affairs, but also asked if it was attempting to engage in destabilisation of the coalition government.
He pointed out that out of the 23 Guyanese attending the conference, 20 were opposition PPP/C parliamentarians.
"Were any of the Indo-Guyanese ministers of government and sitting Members of Parliament invited to the Persons of Indian Origin Members of Parliament Conference currently ongoing in India? Or did the High Commission only and deliberately invite three Coalition Government backbench parliamentarians while specifically ignoring ministers? If so, on what basis was this decision made?" he asked in the post.
The Indian envoy, who was tagged in Khan's post, responded and called the post "unfortunate, irresponsible [and] unprofessional."
According to the High Commissioner, many in the hierarchy of the Government of Guyana and the Guyana High Commis-sion in New Delhi are aware of the invitations from the Government of India for 23 Members of Parliament and three Mayors and the rationale behind inviting only those Persons of Indian Origin who are not ministers. "Hence reckless comments on such a serious issue on social media with the clear intention to mislead the general public by none other than Director of Public Information is unfortunate, irresponsible, unprofessional and to say the least, mischievous given the excellent bilateral relations being enjoyed by both India and Guyana and the ongoing friendly cooperation in various multilateral fora," he added.
Minister of State Joseph Harmon has distanced government from the Facebook post.  He explained that that after invitations were received, the decision on who would attend the conference in India was made by government's Chief Whip Amna Ally, who engaged with the Indian High Commissioner on the matter.  A similar engagement is said to have occurred with Opposition Chief Whip Gail Teixeira.
Harmon said that while Prime Minister Moses Nagamootoo was expected to issue a statement on the matter, there was not much control that could be exercised in such a situation. "People put up things on their personal pages and all we can ask is that if you are in government that you exercise a certain amount of restraint in putting out what might be your personal opinion," he said.
Harmon noted that he has seen newspaper reports on the issue and wished to state that Khan "does not represent the position of the government."
"We have excellent relations with India and we continue to work on those relations. It's a mutually beneficial arrangement which we have with that country and we would like to work to ensure that it gets better," he explained, before referring to Khan's statement as an aberration rather than a norm.
Greenidge echoed Harmon's stance saying also that the Foreign Affairs Ministry is responsible for dealing with matters if the government is aggrieved about an issue with another country.
"If we have a problem we know how to deal with it. If we have a problem with India we know how to deal with that. In other words, if the country has a problem we know how to deal with that. There is a way that one deals with it," the Foreign Affairs Minister said.
Around the Web