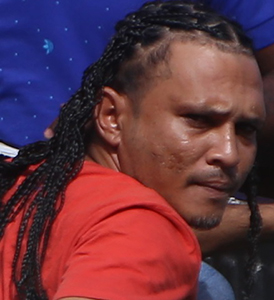 Construction worker Lloyd Sadloo was remanded to prison yesterday on a charge that he robbed five persons of a little over $2.4 million in an armed robbery attack on New Year's Eve.
Sadloo, who has faced numerous charges before including murder, was brought before Chief Magistrate Ann McLennan in Georgetown to answer the charges.
It is alleged that Sadloo, 36, of Lot 6 Quamina Road, Beterverwagting, while in the company of others and armed with a gun, carried out the attacks on December 31st, 2017, at Caneview Avenue, South Ruimveldt.
Sadloo is charged with robbing Gary Primo of a laptop, a gold chain with pendant, an MK watch along with other items and US$4,500. Altogether it is estimated that he robbed Primo of $1,900,095 in cash and valuables
He is also alleged to have robbed Merwin Bowen of an iPhone 6S, valued at $140,000, and $80,000 cash.
It was further alleged that he robbed Maxwell Bowen of an iPhone 6S, valued at $140,000.
Sadloo was also charged with robbing Norwell Bowen of a Samsung Galaxy Note 3, valued at $70,000, US$60 (equivalent to $12,000) and $3,500.
Finally, Sadloo was accused of robbing Leyland Joaquin of an MK watch, valued at $40,000 and a $25,000 Alcatel phone.
Sadloo, who was unrepresented, denied all the charges read to him.
Police Prosecutor Gordon Mansfield objected to bail being granted, while noting that the accused was identified in an identification parade and the seriousness of the charges.
Chief Magistrate McLennan later remanded Sadloo and adjourned the matter until February 2nd.
On May 17th, 2016, Sadloo was sentenced to four years in jail by Magistrate Judy Latchman for cannabis possession. He was also previously held for armed robbery, escaping custody and charged in 2008 with murder.
Around the Web