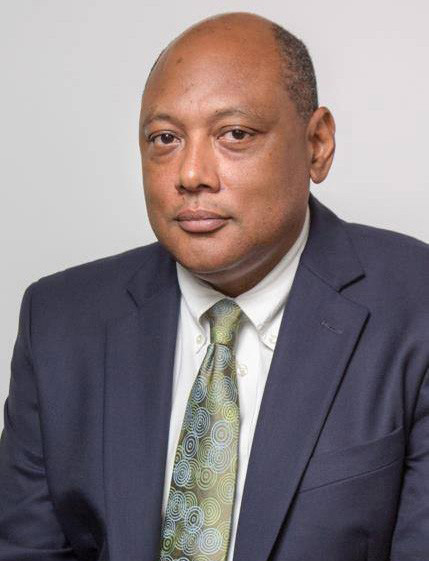 Alliance for Change (AFC) leader Raphael Trotman yesterday said the diversion of billions to the security sector after the destruction of the Camp Street prison was partly responsible for the government not budgeting the full sum for severance payments to laid off sugar workers.
Speaking at a party press conference yesterday, Trotman further explained that Minister of Finance Winston Jordan had indicated in October, 2017, that a supplemental paper would have to be passed to finance the severance payments.
"This matter has been engaging Cabinet's attention for months. It is not that we were unaware that severance had to be paid; the $500 million was indicative of that recognition. We knew that $500 million would not be the full amount that would be needed but we sought to keep some money in reserve—put in the 2018 budget—and we needed to get a sense at the end of the year of what was necessary. We sought to put something in the tilly [$500 million]. We knew we had to pay severance, we just weren't sure where it would come from," Trotman said before noting that government "had to divert billions to readying both Lusignan and Camp Street… there were a number of expenses that came up in 2017."
The Camp Street prison was devastated by a fire in July last year, forcing the relocation of approximately 1,000 inmates. Facilities were constructed at Lusignan and at Camp Street to accommodate the prisoners.
Last Friday, Minister of State Joseph Harmon told a post-Cabinet press briefing that only $500 million was allocated by the government in the 2018 national budget for severance payments for sugar workers, when roughly almost $5 billion is needed.
Harmon had claimed that that the government was not sure of exactly how many workers would be sent home and so had made the nominal allocation.
However, yesterday when Stabroek News asked Minister of Agriculture Noel Holder whether he, as subject minister, was unaware that nearly 4,000 workers would be made redundant, he reminded reporters that the problems of the Guyana Sugar Corporation (GuySuCo) pre-dated his administration.
"This government was shocked when we came into power and realised the extent of the bailout. In the first year, we had to find $12 billion," Holder, who was present at the AFC press conference said. "$48 billion have been expended in just bailing out the industry with no actual returns. We said this must come to an end. We can't just take out funds from the system, throw it into a bottomless hole with no returns and expect to better the rest of the population," he added.
According to Holder, when the previous administration got into power, there were nine estates and 28,000 workers but at the end of its tenure two estates, Diamond and LBI, had been closed and the number of workers dwindled to 16,000.
Asked if he believed that paying the workers severance in installments was the responsible option, Holder said, "I would personally like to pay people their severance the day after they are severed… but it's a sizable sum of money and we do have other areas in the economy that we have to address. The government is doing its best and I think even sugar workers would appreciate getting it in parts… I think the government is being responsible; half now, half later on in the year."
He added that he signed an order last week for $1.7 billion to be released from the treasury to facilitate severance payments.
"It is not easy, it is difficult. Finding $4.5 billion to pay severance is a difficult thing to do. Serious decisions had to be made in regards [to] which other areas of the economy will be denied funding to allow for this. It is not an easy budgeting matter," Holder stressed.
Trotman also noted the "difficult" nature of the budgeting, saying that severance payment was high on the AFC's agenda last year, which the party has pushed and continuing to push for workers to be treated fairly, humanely and according to contract.
He reminded that while it is GuySuCo that should be making these payments, because it cannot "government now has to take very scarce resources and add to GuySuCo's coffers; to take up a debt that is really GuySuCo's. Many would wish to lay this spiel at the feet of the government but this issue with GuySuCo didn't start yesterday or in 2015. We are grappling with the end result of bad management."
Around the Web