Omadat Persaud, who was on trial for raping a five-year-old girl in 2015, was yesterday afternoon sentenced to 45 years in jail after a jury unanimously convicted him of the crime.
Persaud, who appeared visibly distressed after the verdict was announced, maintained his innocence when given a chance to speak. "I'm innocent," he said.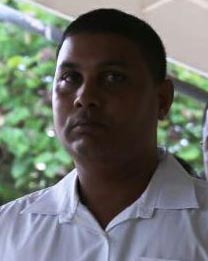 Speaking on his client's behalf, attorney Darren Wade subsequently sought to berate the jury for its verdict but was sternly reprimanded by Justice Simone Morris-Ramlall, who told him that he was out of line.
The lawyer began his address to the court by vociferously declaring that the journey of justice will continue right up to the Caribbean Court of Justice.
He then immediately turned his attention jury, stating that the members also have children and that they will one day go through what his client had gone through. "They (the jurors) have a conscience," Wade angrily said, before adding, "They have children, they will go through it one day."
It was at this point that Justice Morris-Ramlall immediately stopped the young lawyer from speaking and described his conduct as "unprofessional and unethical."
Many in the courtroom were visibly shocked by his display, for which he apologised some moments later.
He claimed that his "zeal and passion" had gotten the best of him.
"Your Honour, I'm sorry to the court and I'm also sorry to the jury for my outburst. My zeal and passion got to me," Wade said.
In imposing sentence, the judge said that account was taken of the nature and circumstances in which the offence was committed. She reminded Persaud also, that he had violated a position of trust.
The judge told the convict that instead of being someone who protected the child, he chose to shatter her innocence.
Justice Morris-Ramlall said that she also took into consideration that the child was penetrated, while noting that regard must be given to the prevalence of such offences and public concern for child-victims.
Pointing out to Persaud that he had no respect for the verdict of his peers, the judge said that she would not punish him with life imprisonment for lack of remorse, since she thought he was ill advised by his counsel.
She also explained that his attorney's outburst would not be held against him.
He was sentenced to a total of 45 years in prison, 35 of which the judge ordered he must serve before becoming eligible for parole.
Persaud raped the child between August 1st and 31st, of 2015.
The trial proceedings were held in-camera at the High Court in Georgetown.
Around the Web