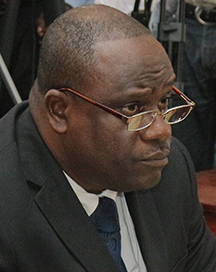 The Mayor and City Council (M&CC) will be grading hotels and similar businesses in a bid to ensure that they abide by city bylaws and regulations, Town Clerk Royston King has announced.
Speaking at a press conference at City Hall on Friday, King said the M&CC will be increasing its inspections of lodging houses, hotels, guest houses, bed and breakfast facilities and other similar places and ensuring that the owners "faithfully adhere" to the appropriate bylaws and regulations.
"All such businesses must be properly registered with the Mayor and City Council. Those that do not meet the standards, will not be registered," King said. He noted that the council has been continuously receiving reports of hotel owners not having appropriate sanitary equipment and of their infrastructure being deplorable.
"In one case, the owner has only a plastic butter bowl for guests to wash their hands. Some have torn mattresses while others have floorings, walls and roofs with gaping holes accommodating termites, rats and roaches," King added, while pointing out that as a result the M&CC will resume a grading system and will be publishing the names and grades in the media to ensure that the proprietors take full precautions for the safety and protection of all citizens who use their businesses.
Previously, hotels and similar businesses were registered without a grading system and were only required to pay a fee. King noted that there are about 90 hotels and similar businesses currently in the city and about 15 to 20 are not fully compliant to be registered with the council.
In addition to the hotels and similar businesses, the council will also be inspecting vendors who sell food. Acting Chief Meat and Food Inspector Onicka Alleyne pointed out that while her department is currently understaffed, officers have been making rounds around the vending spots to ensure that all vendors who sell meats and foods are following the regulations.
"Some of the things we like to highlight is the fact that when you walk around the market places you can see the sale of sausages, cheese and egg being stored together and that should not be so. They should be stored at certain temperatures and when they are exposed to sunlight it can compromise the integrity of the products," Alleyne said.
While the department currently has three inspectors, Alleyne indicated that they need about six more to be able to function at full capacity.
King said the council is currently addressing the staffing shortage but it is having issues recruiting the requisite persons. As a result, it is looking at upgrading the remuneration packages being offered so that they attract and keep inspectors.
King also announced the increase of the fee for food handler's certificates, from $3,000 to $5,000. "Later, the city will introduce special training for food and beverage managers and upon completion they will be issued with a different certificate," he further said.
Around the Web