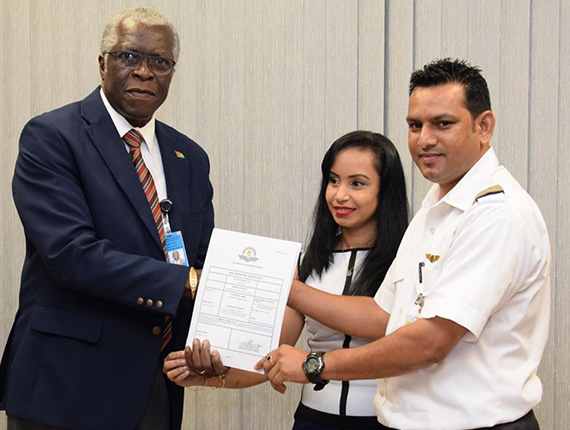 Domestic Airways Incorporated became the first airline in two years to enter the local market after receiving its operator's certificate from the Guyana Civil Aviation Authority (GCAA) yesterday.
The official handing over of the certificate was done at the GCAA's High Street, Kingston, office in Georgetown in the presence of officials of the Authority and Domestic Airways Incorporated.
Director General of the GCAA Lieutenant Colonel (Ret'd) Egbert Field explained that the company had applied for an air operator's certificate in November, 2016. He noted that the application was subsequently accepted by the authority, thus beginning the process of certification, which, according to him, is a key component of the International Civil Aviation Organization's (ICAO) oversight system.
"The certification of an operator is one of the most important items in the ICAO oversight system. Before an operator can operate for profit and reward, he is expected to display and to show that his operations has all the components required by ICAO and that he can ably and also safely conduct the operation as stated by ICAO," Field shared.
Having completed the five step process for certification, the airline was given the liberty to offer its services for charter and to conduct scheduled or unscheduled operations for hire.
"…I speak on behalf of my inspectors and the entire team and I am sure that they have no doubt in their minds that you will be able to conduct your operations safely and in a manner befitting the regulations of the GCAA," the Director General added.
Meanwhile, Chief Executive Officer (CEO) of the airline, Orlando Charles, said that the company has been in operation for the last three years but only facilitated private operations prior to application for the certification in 2016. "Prior to now, we had our personal business in areas in the hinterland and so we were supplying our own shops and operations. We have been using our airplanes for private not the public or for monetary gain from companies or charters," he explained.
However, with the certification, Charles said the company is eligible for charters from individuals or companies and it will be serving all interior locations within Guyana.
Around the Web