Founder of the Doobay Medical Centre, Dr Budhendra Doobay says his vision for the facility would see it transformed into a mini-hospital providing specialised services in areas such as cardiac care and neurosurgery.
According a Ministry of the Presidency release, he was speaking during a tour of the expanded facility at Annandale, East Coast Demerara by First Lady Sandra Granger.
Doobay, a cardiovascular surgeon, said that his motivation for starting the Centre was to provide more affordable care for persons who needed dialysis. He said that approximately 50 percent of the dialysis patients received a subsidy.  Dr. Doobay, in sharing his vision for the future of the hospital, said that they were aiming to transform the Centre into a mini hospital. "We want to do a specialised hospital; do cardiac, neurovascular surgeries and neurosurgery and also whatever money comes, we put it in a little pool and help the dialysis Centre as well," he said.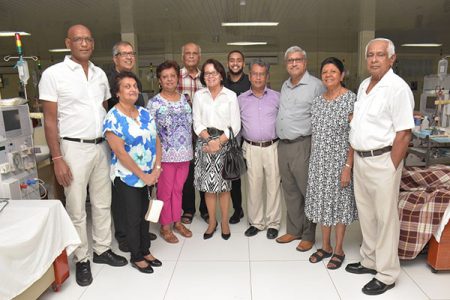 The release said that the expansion of the Centre was funded primarily by the Canadian charity organisation, International Development and Relief Foundation (IDRF), the Beharry Group of Companies, the Doobay Medical Centre board of directors and Sattaur Gaffoor.
In an invited comment, Chairperson for the IDRF Global Monitoring, Winston Kassim said that his organisation wanted to aid the less privileged of the population by subsidising the cost of their treatment.
"In the future, we plan on helping the Doobay Centre here to do prevention work. So rather than [just] treating the patients with the dialysis, we do research in collaboration with McMaster University so that it could prevent the dialysis from happening or the malfunction of the kidney," he said.  Kassim also said that he had extended the invitation to First Lady because of how impressed he was with her humanitarian work across Guyana.
The release said that the First Lady was given a guided tour of the new and improved Centre which has added more space which will facilitate a research facility, a pharmacy and an office for the resident doctors.
During a brief meeting with the Centre's executive body, the First Lady commended the team for their forward thinking in healthcare.
"I have passed here and thought [that] it was only dialysis, but you've showed me that you have much more. You're not static here but you're looking at outreaches. There is a vision and a plan … I think it's a marvelous thing that you're doing here" she said.
The Doobay Medical Centre was founded in September of 2011, to provide dialysis services. Since the opening, the Centre has expanded its operations and services to cater to more than 100 patients.
Around the Web