A shop owner was shot twice yesterday morning during an incident on Leopold and Breda streets which is said to be gang-related and two suspects have been arrested.
Critically injured is Jacqueline Lagnah, called `Jackie', 55 of Lot 83 Leopold and Breda streets, Werk-en-Rust.
She was struck twice in her back during the incident which occurred around 11.20 am and is in a critical condition at the Georgetown Public Hospital (GPH).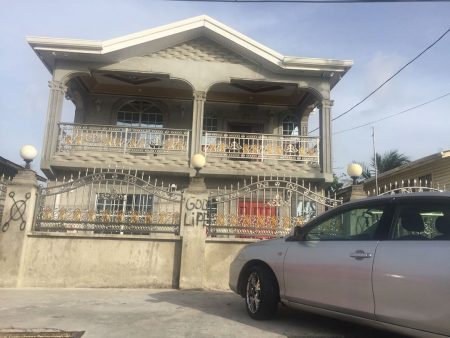 Up to yesterday afternoon, doctors were making preparations to have her undergo surgery.
The two suspects who have been identified as Alkevin Anthony called `Reddis Pratt' and Atwell Martin called `John Kerby' remained in police custody up to last evening.
They reportedly fled the scene following the incident and were pursued by the police who intercepted their motor car, PTT 9251, which was used to carry out the crime, at Pennylane, South Ruimveldt Gardens.
They were taken into custody and the car was impounded.
A source close to the investigation told Stabroek News that the shooting is gang-related and reportedly stemmed from an altercation which occurred on Tuesday evening between Anthony and a resident of Leopold and Breda streets.
Reports revealed that around 8pm on Tuesday, there was a brawl between Anthony and another man called 'Barney' after 'Barney' allegedly robbed a friend of Anthony's.
Anthony subsequently left the scene and returned yesterday morning with Martin, who is described as one of his associates, in the motor car and they allegedly began to shoot indiscriminately resulting in Lagnah being shot.
The police said preliminary investigations revealed that "Barney" and one of the suspects had an altercation on Tuesday evening after the suspect had accused him of robbing his friend.
Preliminary investigations, they said, revealed that the suspects allegedly armed with handguns, arrived at the location yesterday in the motor car during which another heated altercation ensued with `Barney' and they began to shoot indiscriminately.
Lagnah was said to be in her shop when she was struck by the bullets.
'Barney', the police said, was reported to have been stabbed in his face but his whereabouts are presently unknown.
When    this newspaper visited the scene yesterday, residents vented their anger over the incident.
"If yall (the police) can't come in hay and shoot nobody else can't do duh", a son of Lagnah declared.
"Yall better pray nothing don't happen to she (Lagnah)", he said.
One man related that he was standing about a corner away from the scene when he heard gunshots start to 'ring out'. As a result, he said he immediately ran for cover.
Around the Web