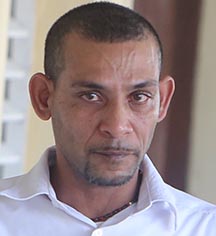 Rajesh Guyadeen, the accused in the 2003 murder of Nandram Manohar, called 'Nando,' who was fatally stabbed after an altercation at a wedding house at Unity, East Coast Demerara, was yesterday afternoon sentenced to 70 years behind bars by Justice Navindra Singh.
Justice Persaud handed down the sentence after a 12-member jury returned with a unanimous verdict following two hours of deliberations and convicted the visibly-distressed Guyadeen, 37, for the capital offence.
"I am sorry that the deceased died," Guyadeen, when given a chance to speak, told the judge.
Prosecutor Abigail Gibbs asked the court to consider that Manohar was only 26-years-old when his life was snatched from him and added that the convict showed no remorse for his actions.
In those circumstances, she asked that Guyadeen be visited with the maximum penalty.
Noting that he detected no show of remorse from the convict either, Justice Singh said that from the evidence presented at trial, he found that Guyadeen's actions were premeditated.
"You lay in wait and stabbed the deceased," the judge noted.
Justice Singh commenced Guyadeen's sentence at 60 years and added an additional 10 years for the premeditated nature of the killing, which he said was an aggravating factor, coupled with the convict's lack of remorse.
Guyadeen's sister, who attended the hearing, was reduced to tears after the sentence was imposed.
The state's case had been that Guyadeen fatally stabbed Nandram to the abdomen after an earlier altercation at a wedding house on the night of May 4th, 2003.
Gibbs had argued, among other things, that after committing the offence, the convict fled to neighbouring Suriname and was only arrested and charged after he returned some 11 years after.
The state was represented by Gibbs in association with Prosecutor Narissa Leander and together they called 11 witnesses. Guyadeen was represented by attorney Maxwell McKay.
The case was heard at the High Court in Georgetown.
Around the Web