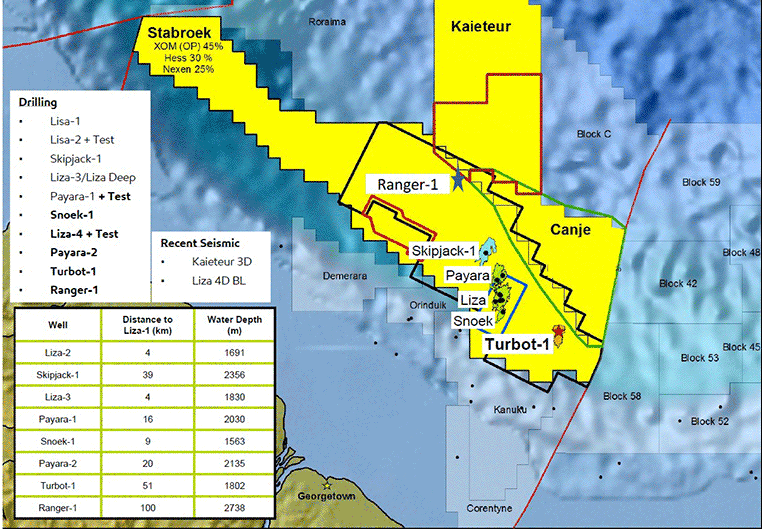 Weeks after its major oil find at the offshore Ranger-1 well in the Stabroek Block, ExxonMobil's local subsidiary is preparing to begin drilling at the Pacora-1 well site in the same area.
According to a notice to mariners from the Maritime Administration Department, which was published in yesterday's Stabroek News, Esso Exploration & Production Guyana Ltd (EEPGL) will on January 25th begin a three-month drilling programme at the new well site.
Since 2015, EEPGL has made a string of finds in the Stabroek block. The latest estimates put oil reserves at around 3.2 billion barrels of oil.
The Pacore-1 drill site is 107 miles from the coast of Guyana and covers an area of one square kilometer. Five vessels will be involved in the drilling and mariners have been asked to steer clear of them and navigate with caution when in the vicinity.
On January 5th, ExxonMobil and the government had announced the major oil discovery at the Ranger-1 well, which was called the largest single find since it began exploration offshore Guyana.
The finding of more than 230-ft of high-quality, oil bearing carbonate reservoir at the well was also the sixth discovery made by the company here since 2015, following previous "world-class discoveries" at the Liza, Payara, Snoek, Liza Deep and Turbot wells, which are estimated to total more than 3.2 billion recoverable oil-equivalent barrels.
The Pacora prospect is located 4 miles from the Payara discovery. Additional exploration drilling is planned on the Stabroek Block for 2018, including potential appraisal drilling at the Ranger site.
Around the Web