The final days for cancer patients can be consumed by pain and loneliness. But for the past 32 years, the Beacon Foundation has been delivering relief and support to terminally ill cancer patients around Guyana with its domiciliary hospice care.
The Beacon Foundation was established by Clairmont Lye along with Doreen de Caires.
It was said that Lye, having travelled overseas and seen the care being administered to cancer patients, juxtaposed it with the local reality, and was moved to introduce domiciliary hospice care in Guyana.
Today, the hospice team—made up of three nurses and one driver—provides care to 86 patients in  regions Three (Essequibo Islands-West Demerara), Four (Demerara-Mahaica), Five (Mahaica-Berbice), Six (East Berbice-Corentyne) and Ten (Upper Demerara-Berbice).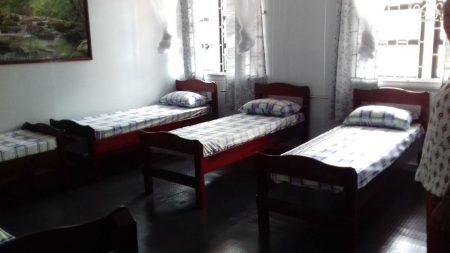 During a recent interview with Sunday Stabroek, Hospice Supervisor Marina Ramsden, who has been with the foundation since 1989, along with medex Bibi Salim, Nurse Ira McPhoy, matron of the hostel Janet McKenzie and driver J Ramdial, spoke of the services Beacon offers, which includes the recently-opened hostel at its newly-renovated building on Thomas and New Market streets, Georgetown.
Their roster of patients is based on referrals made by doctors at private medical institutions as well as the Georgetown Public Hospital (GPH). Their schedules are hectic—travelling between regions to provide welfare support and pain medication to clients at least once per month (sometimes more often, depending on the need). The service is a supplement to the care offered by their primary healthcare providers. Salim, McPhoy and Ramdial are the only ones dispatched to the field, making the workload seem almost daunting.
But for the patients, the ritual is one to look forward to, as some are alone in their pain. Even when family members are present, empathy for the patient can be waning.
"[Recently] we went to a patient, we spent an hour at her home just talking, just trying to convince the family that she is absolutely important. This is her time. This is not how you feel about your sister, how you feel about the family, this is her time…that kind of one-on-one and personal talks, the families look forward to us going there and just having a one-on-one. Some of them just need a hug. Some of them don't even need medication. They just need to see you go there and say, 'Hi, how are you?'" Salim said.
"Pain is not what you perceive it to be. It's what the patient says it is," Ramsden stated, following up on a comment from McPhoy about relatives often taking for granted the level of pain a cancer patient may be experiencing.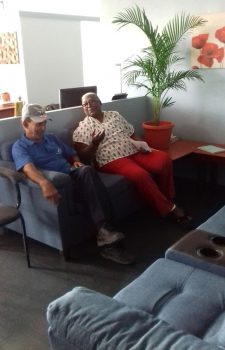 For the caregivers at Beacon, support means bonding with the patients, and knowing and catering to their welfare needs. This includes providing hampers, educating and sensitizing the family to the needs of their relative, and also educating them on the effects of certain lifestyle choices and on preventative measures, including regular testing.
"…When we go into the homes we adopt the entire family and sometimes we find the breadwinner is the patient. Now the breadwinner being the patient, what happens to my family? And we would see welfare needs–needs for clothing, needs for food, needs for counselling …we would tell them how to treat their patient and what to expect, what is likely to happen…we prepare them for the end of life. And we want to see them when that time would have come to die in dignity and as pain free as is humanly possible…that's it. That's what hospice is all about," Ramsden said.
"…What we have to ensure when we visit the patients at home is that the entire family realises cancer is not a catching thing. Or it's nothing that you have done personally that caused you to be stricken with cancer. All of us have cancer cells. All, all, all of us. However, what activates it, we don't know. So we talk about lifestyles—drinking, smoking, this kind of thing," the matron added, while noting that the incidences of cancer have increased among younger age groups.
They related that beyond welfare and the delivery of pain relief, patients sometimes have more peculiar requests, particularly end of life wishes.
Ramsden recalled the time they organised a wedding for a patient. "She was living with the man for years and she knew she was dying, he knew she was dying too and she wanted to get married and he had a social worker who goes along with us…she is affiliated with Catholic priests and she got a priest and a ring and we took it, and that woman got married and before we reached to Parika she died," she related.
She told another story of a mother whose wish was to see her son before she died. Ramsden said on the fourth day of the son's visit the woman passed. "We mend fences," the matron summed up.
The Hostel
In the earlier years of Beacon, the foundation was involved in a number of projects, including a rehabilitation programme for street children, school feeding programmes in the Rupununi, renovation of the Georgetown Hospital Pediatric ward, Arawak language classes and a women's support programme.
Due to financial constraints, however, Beacon was forced to confine its work to healthcare. Now, beyond the hospice, Beacon has established a hostel, with five available beds, which will provide lodging for persons from out of town who are receiving radiation therapy. The building is located just opposite the GPH, making access to the services of the hospital convenient.
Ramsden explained that radiotherapy is done over 25 sessions—five sessions a week for five weeks. She estimates that the average travel cost, for those coming from out of town, at about $2,000 per day.
"So it's 10,000 for the one week. Therefore, what happened is, we see this need and seeing this need brought about the birth of our hostel. Patients having to have the radiation therapy can come and overnight here and then go to the five sessions," she stated.
Ramsden related that the service as of now, is only being offered to women and children travelling with their mothers as there is limited staff and space, and emphasised that it is only available to those travelling from far distances so they can reduce transportation costs.
The hostel was launched on December 14th last.
Funding
Although the Ministry of Public Health has been supportive of the Foundation over the past few years, providing medicine when it is available, the Foundation has always been privately run, and depends largely on the funding provided by the Board of Directors, as well as, private donations from the Canadian Council of Christian Charities, Food for the Poor, Hughes Investment Holding and the relatives of patients. Funds are also raised through catering activities.
However, the team recognises that there is a need for additional resources if the work of the Foundation is to continue, and so, have decided to go public with their efforts as there is a need for investors.
It was related that running of the hospice alone costs approximately $10 million per year.
Around the Web