The Society Against Sexual Orientation Discrimination (SASOD) launched its Community Paralegal Services Initiative on Wednesday at its 203 Duncan Street, Lamaha Gardens, Georgetown, Guyana office.
A release from SASOD said that this initiative falls directly under its Human Rights Programme and is benefiting from financial support from the Caribbean Vulnerable Communities Coalition (CVC). At the launching, Managing Director of SASOD, Joel Simpson, said that this new initiative is aimed at meeting the legal needs of marginalized groups in Guyana and strengthen the capacities of vulnerable groups to understand and act on their rights.
"We are providing legal support to vulnerable groups, who cannot necessarily afford legal representation and we are acting as mediators, organising community education and advocacy and trying to bridge the gap between the formal justice system and the means to access justice in Guyana", he said.
The release said that the organisation will also be working closely with Guyanese attorneys who are willing to provide pro-bono services, particularly  members of CariBono (Caribbean Lawyering for Social Justice) to aid in the provision of legal representation for SASOD's clients, Simpson added.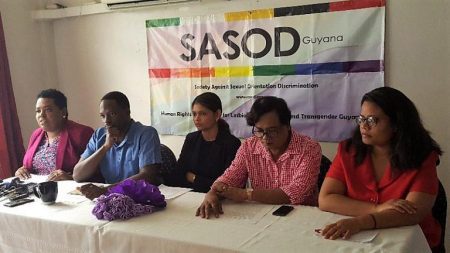 Devanand Milton, President of Guyana Trans United (GTU) provided a testimonial as the programme's first client, "I was at the route 32 minibus park, I entered a bus and sat at the backseat when the driver came and abusively ask me to exit the bus. I then reported the matter to a traffic rank at the park. There has no redress for the matter…With this Community Paralegal Service Initiative; I have received the support I needed, because we as LGBT people are so vulnerable to a lot of other issues and we cannot afford fees for lawyers."
Currently five Guyanese attorneys are providing free legal services to these vulnerable groups, according to SASOD's Board Secretary, Attorney-at-Law, Mishka Puran.
Puran, who is the Guyana focal point and steering committee member of CariBono, called for other local lawyers to join the network by contacting her or SASOD directly. Under this initiative, SASOD is expected to provide legal aid for victims of intimate partner violence, juvenile delinquents, parties in family disputes, drug users, orphans and other vulnerable persons.
The programme officially started on December 20, 2017 and initially runs for twelve months.
Around the Web