The Sheriff Street/Mandela Avenue area is being surveyed in preparation for huge expansion works to be conducted by Chinese company, Sinohydro Corporation Limited.
Work Services Group, Coordinator, Ministry of Public Infrastructure, Geoffrey Vaughn told the Department of Public Information (DPI)  that these measures will set the pace for the infrastructural works which are expected to begin before the end of the first quarter this year.
"Sinohydro is mobilising, as we speak. Surveying works are being done and this is basically to stake out the area in terms of width and centre lines etc. So we're doing the preliminaries before we go into the actual works," Vaughn told DPI.
The contract for the Sheriff/Mandela Avenue road project was awarded to Sinohydro Corporation Limited in November and signed in December 2017. The project will cost US$31M, which is being provided by the Inter-American Development Bank.
Vaughn indicated that the removal of utilities, before the construction begins,  is critical to ensuring that the project is completed on time.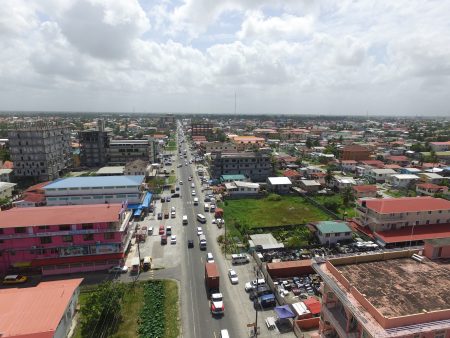 The existing carriageway will be upgraded and resurfaced from the northern end of Sheriff Street through to Homestretch Avenue. From that point to the Mandela Avenue-Hunter Street junction there will be four lanes of traffic.
DPI said that the completed roadway will also be outfitted with the requisite road safety amenities including sidewalks, bicycle lanes and "hopefully" adequate parking spaces. Bridges will also be upgraded. In the vicinity of the East Ruimveldt and North Ruimveldt Secondary Schools, there is to be a pedestrian overpass.
Around the Web