Minister of Finance Winston Jordan charged the graduates of the Basic Needs Trust Fund (BNTF) Skills Training Programme to use their newly acquire qualifications to fight against unemployment and to "soar just like the eagle."
162 graduates of the Caribbean Development Bank-funded programme from various parts of the country gathered at the National Cultural Centre yesterday afternoon as Jordan delivered the feature address.
"A means of your going ahead. A means of you contributing to this country called yours. The unemployment problem that we have is a real problem but it is aggravated by the fact that when you get the certificate you only see the job in the public sector, you don't see this certificate as providing you with the skills. The certificate that has now built your capacity so that you can spread out and soar just like the eagle," Jordan said.
He pointed out that too many persons are satisfied with "working in an office" and there are a limited amount of "offices" in the country and as a result, more persons should pursue providing jobs for themselves and becoming entrepreneurs and opening their own businesses, which can help tackle the vexing unemployment problem that not only permeates throughout Guyana, but also the Caribbean.
With respect to the rate of unemployment, Jordan noted that while there are no accurate figures and estimates may vary, an unemployment survey is currently being carried out and when it is completed it will be possible to see the national and regional figures, which will help in planning for the future.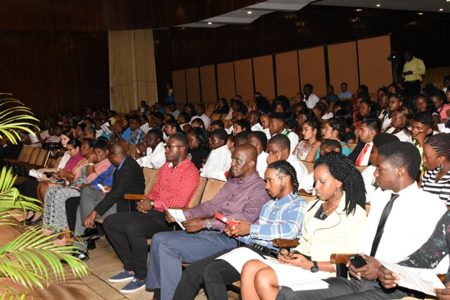 "Sometime soon we will have the national and regional unemployment rate to help in planning for the region to help reducing the rate. There is anecdotal evidence that appears to suggest a widening deficit of the unemployment rate and the rate at which we can concoct solutions to reduce it, and I must admit that it is a complex problem that requires certain actions that will involve all stakeholders," Jordan said.
He also stressed to the graduates that the government does not provide jobs but facilitates the development of new jobs and it is the private sector which entails that citizens will play a major role in tackling the unemployment plight.
Chairman of the BNTF Oversight Entity, Bernard Lord in his opening remarks pointed out that the graduation ceremony is significant and includes students from the seventh and eighth cycles of the programme.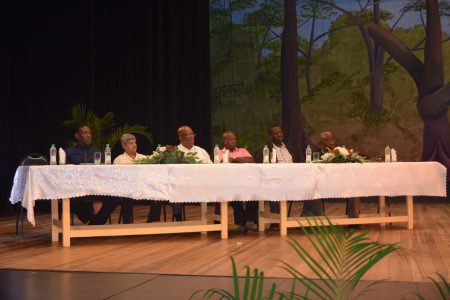 He noted that persons who are graduating came from nine different centres around the country and took part in three different skill areas. For the Early Childhood Development Leadership (ECD) Training Programme, persons participated at Dartmouth, Suddie, Anna Catherina, Ann's Grove, Ithaca and Linden. They were trained in Child Development; Environment/learning through play/schedules and routines; health, safety, nutrition and young child feeding; parent involvement; professionalism; leadership; management; problem solving and decision making; meeting and meeting procedures; events planning and life skills education.
For the Information Technology Skills training, participants from Mibicuri, Christianburg and Victoria were able to acquire skills in the introduction to computers; Microsoft Office and Networking; basic office ethics; basic mathematics and English; sexual reproduction health and micro enterprise.
For the last programme, Music Production Skills Training, persons from Georgetown were trained in the introduction to electronic keyboard, basic elements of guitar playing, rudiments of music theory, life skills training and computer science.
Chairman of the Board of Industrial Training, Clinton Williams also gave brief remarks along with Administrator of the National School of Music, Andrew Tyndall and Aubrey Norton from the ECD training.
Around the Web