The Guyana Geology and Mines Commission (GGMC) has offered to waive 50 percent of arrears on outstanding rental to miners holding medium scale properties.
Minister within the Ministry of Natural Resources Simona Broomes told the Department of Public Information (DPI) yesterday, the initiative seeks to provide a chance for defaulters to retain their property.
"Myself and Minister (Raphael) Trotman, we had a meeting and a discussion in which we agreed to have an amnesty for persons who would be interested in getting their properties back," the Minister said.
In an advertisement published in the Sunday newspapers, the GGMC stated that miners in default will have until April 15 to tap the opportunity to clear arrears on their rentals. Miners who fail to utilise this opportunity will have their property lien cancelled. Broomes noted that some 400 blocks are pending cancellation. The offer is in response to requests from miners.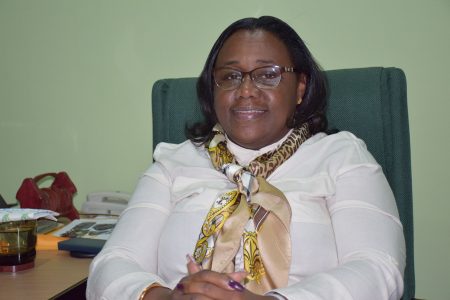 "I think in it all, it's a wonderful opportunity for miners because some persons now coming back and say listen things seem different there is more opportunity, the government is investing in more infrastructure,"  Broomes said.
Defaulting miners, she added, have complained that they could not access the property they rented from the GGMC.  Allocations have been made this year for increased road works.
"This government is looking to put back to the sector, it is something that is well deserved by the miners. It will be a cost to them but all we're doing as a government and in the Ministry, is providing that opportunity for the miners."
Broomes noted the initiative, which is the first of its kind, seeks to bring accountability of land ownership while reducing instances of illegal mining. "A lot of these properties, because it is there, persons just go and conduct illegal mining. So, to monitor the sector and to bring about a level of order into the sector, we came up with the idea", she told DPI.
Miners are being encouraged to take advantage of "the genuine opportunity" which will not be extended beyond April.
"I want to encourage miners to go into Land Management, look at the arrears and discuss a payment plan which will enable them to still get their property. I want to encourage miners to make full use of the opportunity,"  Broomes added.
Around the Web