The Mayor and Council-lors of Georgetown are now mourning that passing of one of their own, Councillor Junior Garrett, who died yesterday.
He was 64.
Garrett, who was known for his impassioned style of debate, died just before 2 pm at the Woodlands Hospital, where he was taken after he collapsed.
Several councillors have stated that one hour before his death Garrett had been present at a meeting of the city's Finance Committee, which was working to finalise the municipality's 2018 budget.
Councillor Sherod Duncan noted that at that meeting Garrett was in "rare from" as he implored council to ensure that the 2018 budget catered for the payment of workers' benefits from 2017. For several months in 2017, City Hall did not pay workers' contributions to the Credit Union, National Insurance Scheme and Guyana Revenue Authority.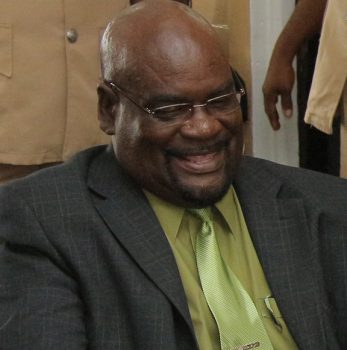 According to Duncan, Garrett implored Oscar Clarke, Chairman of the Finance Committee, to "please, please, please" make sure that these payments were catered for.
Clarke, too, made mention of this presentation when speaking with this publication after Garrett's passing. According to Clarke, he pleaded with Garrett to calm down and not raise his blood pressure even as he assured him that he had heard his points.
Soon after this exchange, Garrett left the meeting for another appointment at which he reportedly collapsed.
"Fifteen minutes ago, we got a call that he had fallen and was taken to the hospital. Then we heard that he died," Clarke said.
He noted that the Mayor rushed to the hospital and was informed of his death on her arrival at just before 2 pm. At this point all the councillors who were present for the meeting of the Finance Committee and the Social Development Committee rushed to the hospital to offer their condolences to his family, who, up to press time, remained too distraught to speak.
A practicing accountant, Garrett, who was first appointed to the council on March 25th, 2002. He was one of 15 constituency councillors elected to the present council at the March, 2016 local government elections. A longstanding member of the PNCR, he was elected as an APNU+AFC candidate to represent Constituency 3 (Bel Air Gardens, Bel Air Springs, Prashad Nagar, North East & North West Campbellville).
Councillor Garrett severed consistently on the council's Finance Committee, holding the post of Vice-Chairman from 2004 to 2012. Upon the passing of the committee's then chair, Deputy Mayor Robert Williams, Garrett had been elected chairperson of the committee and served in that capacity until 2016.
Following the 2016 polls, he declined a nomination to serve as committee chair but continued to be an active member of the committee. He travelled with the committee chair Oscar Clarke, Town Clerk Royston King and Mayor Patricia Chase-Green to Mexico City, as part of the core group which negotiated the controversial metered parking contract with Smart City Solutions. Garrett had been one of the most vociferous defenders of the project, and the manner in which it had been negotiated and was being implemented.
He, however, continuously challenged the way in which the administration was implementing several other projects. At last Monday's statutory meeting, Garrett had challenged the Town Clerk to explain why a fence bordering the Le Repentir Cemetery for which council had paid $4.4 million in 2016 was being torn down.
In a press statement, Mayor Chase-Green referenced her relationship with Garrett. while noting that she had benefitted from his knowledge, particularly, in the area of financial management.
"I knew him before he became a City Councillor. As City Councillors we worked together to make a difference in local communities…We had numerous meetings where he shared openly with me about his vision for his community and offered me invaluable support. He demonstrated that you can lead in a way that is bold and determined, but also with a sense of compassion for others," Chase-Green said.
The statement said that Garrett was "a leader of another generation, but his values of integrity, respect and honesty are timeless."
"Councillor Garrett had an illustrious career serving local communities that spanned over a decade. He was an absolute expert in his field and a true professional, with skills and qualifications that strongly complemented a Councillor's role. He was an exemplary role model, a mentor and friend to many and a great advocate for the sustainable development of Georgetown," it added.
Duncan, too, noted that Garrett would be remembered for his "thunderous, booming voice signaling the intensity of his emotions for the issues he championed."
"We will miss his banging on the table to make his argument even more forceful as he took in the full measure of the chamber with his piercing eyes. We will be poorer for the absence of his contributions to the Council, and his huge laughter. We will miss the man we had this morning, a man in rare form," Duncan concluded.
In seeking re-election in the 2016 polls, Garrett had voiced his expectation that the change in central government a year before would mean a new start for local governance as well. "This is a new government now and things have changed, so I believe things will be done… Look at what happened after elections; persons got up and voluntary went in to trenches and cleaned without any money," Garrett said. "Campbellville, like Georgetown, had been neglected and town council could not have done certain things because of lack of finance… The political structure at that time was preventing development of the capital city," he added.
Garrett said at that time, that during his years as a councillor, he had been able to provide service to the council by improving its accounting.
He also said he was elated to see young people taking the opportunity to become leaders of their community, but opined that as an experienced elder in society, persons like him were needed.
Persons with experience are the ones who would mould the young minds into making positive decisions he argued, while adding that once returned as a councillor, he would work to improve the city's finances by looking to increase revenue generation.
Around the Web