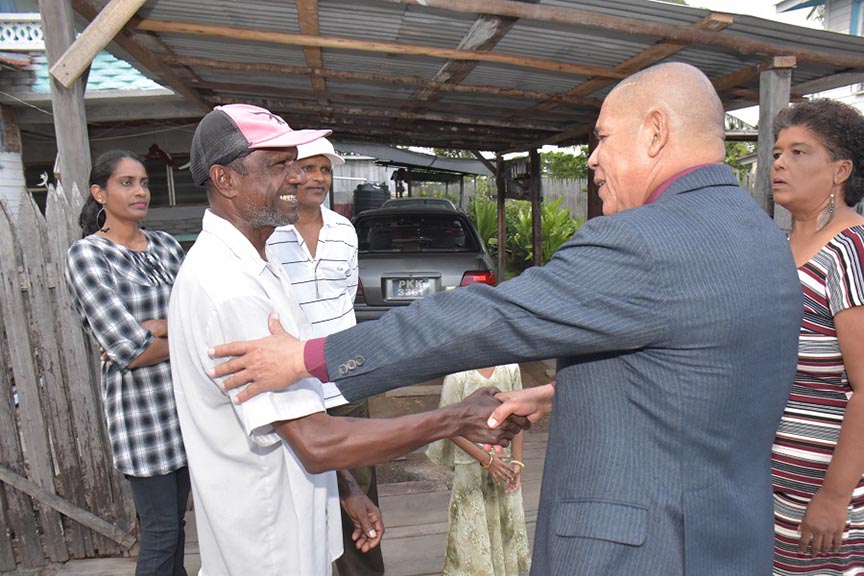 Relatives and friends of those who lost their lives during the Lusignan Massacre were on Friday afternoon encouraged to remain resilient and strive for continued unity as a community.
This was the message delivered by Ministry of Social Cohesion Dr. George Norton at the interfaith memorial service hosted by the Indian Action Committee (IAC) on the occasion of the 10th anniversary of the massacre.
"It certainly is not a pleasant moment for me to stand here before you on an occasion like this, describing that event as horrifying is not enough, that ten years ago to some of us seems like it was one year ago and even though it's a decade, yet some of us cannot fathom what actually happened on the 26th  of January ten years ago. I can only imagine the emotions and the trauma that you have been experiencing here of that dreadful incident, particularly the siblings, the immediate relatives and the community in general," Norton said.
"However, I want to commend you, especially the relatives again and the neighborhood in general for the strength that you have exercised in forging ahead with your lives. I commend you for that. Overcoming pain is one thing, but living on and coping with pain is another thing and that you continue to do, and for this I admire you. I am sure that your loved ones are happy that you are still here on this earth, working to fulfill your purpose," he added.
The Minister continued his address with the reaffirmation that his ministry, and by extension the country, stands with them and is prepared to offer support where necessary.
"To the survivors of this massacre, this event has made you resilient and has shown you that you can rise above any challenge and adverse condition especially that which you were faced with. Let us take the opportunity to not only reflect on the lives lost on January 26th, 2008, but to also have a renewed sense of hope and to pledge towards ensuring that this community of Lusignan turns out to be the best it can be," the Minister said.
"I will not say that we hope this will not happen again, I would want to say that we hope it never did happen. There is no way in spite of all that we may do, that the scars whether its physical, emotional or spiritual that we suffered would go away. It is for this reason, I expect that all of us, will do all that is possible to help you, you the victims, to get on with your life," Norton added.
Several residents in turn expressed appreciation to the Ministry and the IAC for their continued support over the years. Nadir Mohamed, who lost his son Shazam Mohamed in the massacre, said he was pleased with the support and took the time to share a memory of his late son, who would have celebrated 33 years of life this year. Mohamed said the he and his family will continue to live with that memory of January 26th, 2008 until the day they too pass away.
Meanwhile, Opposition Member of Parliament Juan Edghill, who spoke in his capacity as former Chairman of the Ethnic Relations Commission (ERC), encouraged the community to be vigilant and to ensure that an act of such a magnitude never happens again.
He also took the opportunity to respond to President David Granger's call for inquiries into deaths, which the president said occurred under the PPP/C's leadership.
"Yesterday evening we got the news that at a function, which His Excellency the president attended—the Guyana Defence Force Officers' Conference—he said, he would like to have inquiries and investigations into deaths of the past of a particular era. I welcome such a call because this country needs to know exactly what happened here; this country needs to know who were the intellectual authors of what transpired here," Edghill said.
"This country needs to interpret this in its correct context and must not be left for mere political statements and to be used politically or conveniently by some," he added.
The service, which included Quranic recitations, the singing of bhajans and prayers from the three main religious groups, was also attended by IAC founding member, Neaz Subhan, who chaired the service, and religious leaders, including Pastor Ronald McGarrell and Pastor Wendell Jeffery, of the Inter-Religious Organisation (IRO).
On January 26th, 2008, gunmen stormed into Grass Field, Lusignan, opened gunfire on sleeping residents and raided their homes. At the end of the 15-minute ordeal, Shazam Mohamed, Clarence Thomas, his son, Ron, 11, and daughter, Vanessa, 12; Mohandai Gourdat, 32, and her two children, Seegobin, four years old, and Seegopaul Harilall, 10; Shalem Baksh, 52; Rooplall Seecharan, 56, his daughter Raywattie Ramsingh, 11, and his wife, Dhanrajie, called 'Sister,' 52, were all dead.
Around the Web