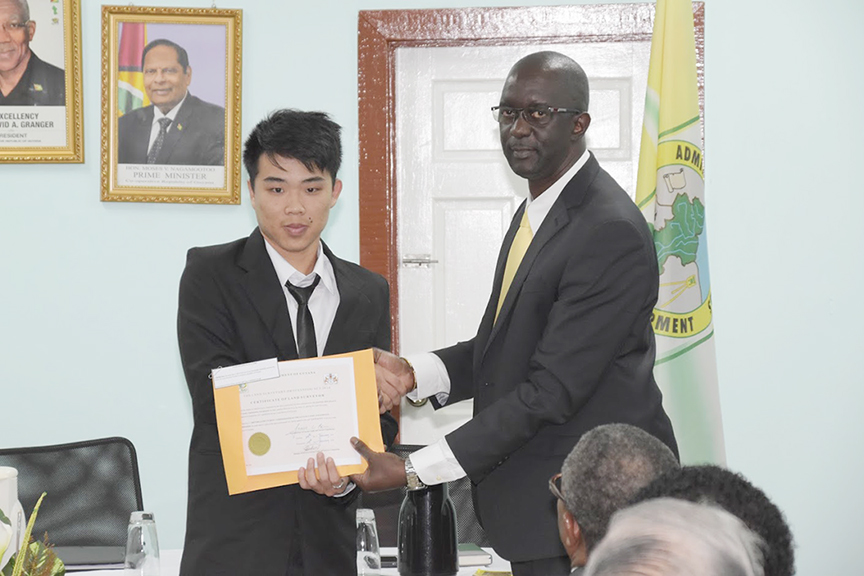 Eight new land surveyors were yesterday sworn in and Minister of State Joseph Harmon urged them to uphold the ethics of the profession.
"I believe that surveying is an exact science and, therefore, it cannot be who is right and who is wrong. It is what the science says. If it says that this is a boundary, this is the boundary. It is not because your client pays you more money that you will say this is not the boundary. That's professional dishonesty and we have to guard against that," Harmon told the simple swearing in ceremony at the Guyana Lands and Surveys Commission (GLSC) Headquarters at D'Urban Backlands.
Harmon, in the keynote address, noted that the graduates were the beneficiaries of a programme that is offered by the GLSC annually to prepare interested persons for careers in surveying.
"This is the first step," he stressed before noting that the public have a right to expect a certain standard of performance from them. "If you cannot deliver on that standard that is expected of you, then the profession will be the worse…," he added.
Harmon complimented the entity's board for its efforts to ensure that there are qualified Land Surveyors. "This is a most crucial area of professional endeavour and ensures lawful and orderly occupation of land and legitimises it for economic use. Indeed, the lawful occupation of land, to which land surveying is essential, is a key element in the orderly development of society and in the peaceful coexistence of those who live and work close to each other," he said, while noting that as a practicing attorney he did most of his work in the land court and had encountered cases before the court for years because neighbours and surveyors could not agree where the boundary fell.
Pointing out that a client has an expectation of relying on the professional work of their surveyor, Harmon urged the graduates to provide service that is "honest, impartial and fair." He said that land surveyors must discharge their services in a way to prevent "discord and land disputes as far as possible" and are therefore expected to execute their tasks with "integrity (and) to adhere to the highest standard of professional ethics."
He said they were required to strictly observe the standard operating procedures as set out by the GLSC, to provide accurate description of surveyed lands for the preparation of legal documents, such as transport, leases and grants, to strive at all times to serve the public's interest, avoid conflict of interest situations and to display responsible and lawful conduct.
"I believe that if we do that many of the issues that we have will be resolved….You see how important your work is? Every transport, every lease, every grant is subjected to a survey plan, so it is your plan on which all these things rest and if you are not accurate, if you are not honest with your lines and your boundaries, you will have serious problems…," he stressed.
Harmon pointed out that government is preparing to embark on projects countrywide, which will require the skills of the graduates and he noted that the training of potential land surveyors will have to be increased to satisfy the expected demands.
Internship
Meanwhile, GLSC Commissioner Trevor Benn announced that from next year all participants of the programme will be required to do a period of internship before becoming certified.
"In keeping with the Land Surveyors (Profession) Act, the Board of Land Surveyors agreed that starting in 2019, all qualified persons must complete a period of internship with an assigned Senior Surveyor before that individual becomes eligible for swearing in… This means that this is the last ceremony where one can be sworn in without participating in an internship," he said.
Benn stated that surveyors are integral and inextricably linked to GLSC's fulfilment of its mandate as more than 50% of the functions outlined in the GLSC Act requires the active participation of surveyors.
He said that in 2018, it is the intention of the Commission to bring into effect the requirements of the Land Surveyors (Profession) Act that was assented to in May, 2014. This Act, he explained, provides for, among other things, the Registration of Land Surveyors, the Regulation of Practice, and administering penalties.
Surveyors will now only be able to conduct surveys legally if s/he has a certificate of registration. Certificates will reflect if the Surveyor is a Government or Private Surveyor. The Commission is also working on improving its facilities to receive surveyors and provide them with improved services and facilities to aid them in their research, he said.
Benn also recalled that at last year's swearing-in ceremony, he indicated the high failure rate in two areas – Mathematics and Astronomy – and had promised then that a proactive approach would be taken to ensure that future candidates had a longer exposure to Mathematics before the examination. "I am happy to report [this] was implemented and yielded some success. We have moved from five to eight passes from a similar number of candidates sitting the Sworn Land Surveyors Exam. The Math course will be offered again in 2018 and onward until such time that we can have confidence that our students no longer need same," he said, while stressing that poor performance in Mathematics is occurring both at the national and regional levels. He said that approximately 32 candidates were exposed to additional Mathematics classes from April to October, 2017 and this resulted in the slight increase in the number of graduates this year.
Benn also informed that GLSC has engaged the Government Technical Institute (GTI) and the University of Guyana (UG) to address the situation. He said in the case of the GTI, it would support its Surveyors' Programme and in the case of the UG, it has sought the start of a course in Land Administration for staff members across land agencies in Guyana.
Additionally, examiner and GLSC board member Magistrate Dylon Bess said that the board has found that GTI plays a very important role and the facility provides a foundation, equipping surveyors for the task ahead. "We recognise that that institution faces many challenges," he said, while stressing that GLSC has made a commitment to assist GTI to strengthen its surveying programme to produce high quality surveyors.
The board, Bess said, also stands committed to its mission and mandate of improving the profession. "We want to see surveyors, regardless of race, regardless of creed, regardless of circumstances, achieve their full potential as professionals within their profession. Our task is to make this possible. Our mission is to provide practical step by step assistance so that surveyors can achieve their full potential," he said.
Valedictorian Katfai Sue also urged his fellow graduates to be professional and to apply everything they have learnt over the past year in the execution of their duties. He recalled that he never envisaged himself as a land surveyor but his interest was sparked when he commenced his Diploma in Civil Engineering studies at UG. He jokingly remembered the difficulties his classmates were having with the Lands Surveying course, which he always did well in.
The other new surveyors are Orvil Parris, Romario Denhart, Kevon Williams, Moyica Dodson, Mahendra Sahadeo, Bhageshwar Murli and Brentnol Bart.
Around the Web