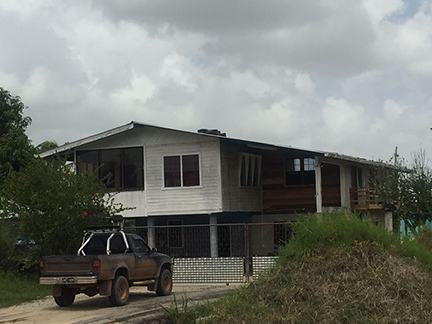 A Chinese couple were beaten and robbed on Monday night, when a gang of armed bandits invaded their Garden of Eden, East Bank Demerara home.
During the attack, which occurred around 9.40 pm, businesswoman Rong Yan Yao, 41, and her husband, Rong Jie King, were gun-butted to their heads and relieved of an undisclosed amount of cash, a quantity of gold and silver jewellery, a quantity of fish glue, a phone and their pick-up truck, BSS 5412, which the bandits used to escape.
Stabroek News was told that the couple were relaxing in their home when six bandits entered.
The armed men held them at gunpoint and demanded that they hand over the cash and jewellery.
They then began to beat the victims to their heads and relieved them of the valuables before escaping with the vehicle.
An alarm was raised and the police was summoned.
The couple were taken to the Diamond Hospital for treatment. They were later discharged.
When Stabroek News visited the crime scene yesterday, a relative of the victims related that they wished not to comment on the attack.
However, it was observed that there were several surveillance cameras on the premises. Neighbours were tightlipped about the attack as well.
A police investigation has been launched but no arrest was made up to last evening.
Around the Web