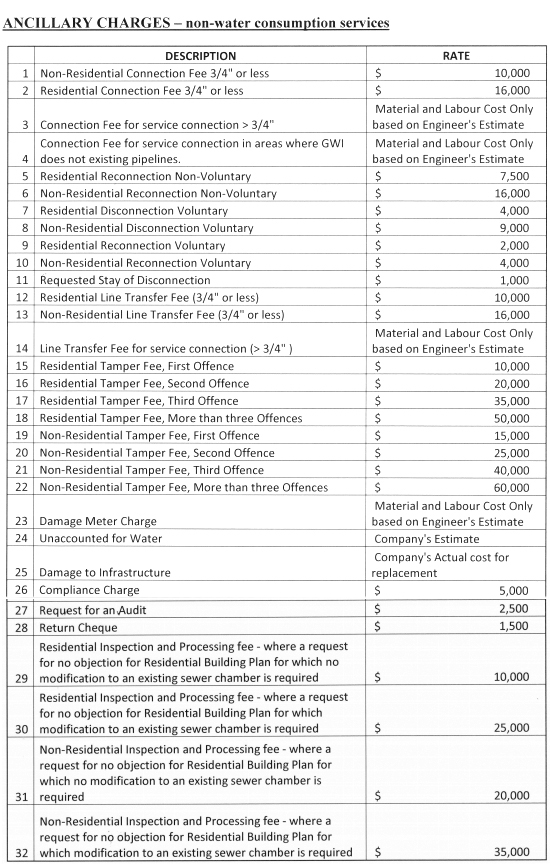 A fixed maintenance charge of $500 for all consumers, except pensioners, has been proposed by the Guyana Water Incorporated (GWI) in its application for tariff changes, which also suggests that metered customers be billed according to the volume of water they use.
The GWI has submitted the aforementioned tariff variations to the Public Utilities Commission (PUC). The proposal is a variation of the 2013 order, which was never implemented, reportedly due to "prohibitive costs" from the billing software company HANSEN technologies.
According to the application, adjustments for the tariff are needed not only to bring in sufficient revenue to meet the company's total operating costs, but also to level the playing field in terms of the application of rates to the consumer.
"With fourteen (14) domestic bands and no clear-cut parameters for application of same, customers oftentimes cry discrimination and high handedness by the company when it is applied to them. There are instances in the current Tariff regime where the domestic customers are required to pay a higher rate than Non-Domestic (Commercial) customers," the application stated.
GWI related that 100% metering is the ultimate goal, while stating that the low rates attached to unmetered residences compared to the large level of consumption has caused costs to escalate and the resource to be used indiscriminately. It was noted that usually in the absence of meters, utility companies average unmetered rates that are close to the expected customer consumption, which is the system that the new tariff structure is built around.
GWI said that because metering is necessary for non-revenue water (NRW) management (reducing the amount of treated water lost before it reaches the customer), it has endeavoured to ensure that the proposed tariff structure "promotes equity across the customer base and promotes the concept of reduced NRW."
The fixed charge of $500, should it be accepted, will apply to both residential and non-residential customers, except for pensioners.
It was stated that metered domestic and non-domestic customers, rather than being charged according to the compulsory minimum monthly consumption rate of 10m3 and 15m3, respectively, would be charged according to volume of consumption.
Therefore, monthly bills would reflect the fixed rate ($500) plus the rates accumulated for the volume of water used. If the customer's consumption for that month is 0, then only the fixed charge would appear on the bill.
It was stated that the fixed charge, a "staple" for utility tariffs around the world, will subsidise maintenance costs of GWI's service line to the customer.
Water tariffs
It has also been proposed that the current consumption charge of $112/m3, which currently applies to metered residential customers in Georgetown, will extend to regions outside of Georgetown to "ensure equity and parity".
For unmetered residential customers, there will be a standard monthly consumption charge of $1,500 per month. It was stated that the amount was determined by research which showed that the average consumption by residential customers is 25m3 per month.
For pensioners, whose water usage was calculated to be about 10m3 per month on average once the pensioner lives alone or with no more than one other person, they will pay $74/m3. However, if the pensioner's water usage exceeds the 10m3 average, every additional cubic meter will attract the regular residential rate of $112/m3.
Non-residential customers, including licensed business places, service centres, places of worship and community centres, are categorised by the size of their establishment (small, medium and large).
The proposed monthly consumption charges for metered non-residential customers, small, medium or large scale, are $150 per cubic metre.
Small scale customers are defined as those operating non-domestic activities at a building no more than 1,500 square feet in area; medium scale customers are those who occupy buildings between 1,500 and 3,000 square feet; and large scale non-residential customers are those with a building that exceeds 3,000 square feet in size.
Non-residential customers without meters will pay $3,750 (small scale), $12,000 (medium scale) and $24,000 (large scale).
The above rates, it was stated, caters for volumetric consumptions of 25m3, 80m3 and 160m3, respectively.
Sewerage tariffs
In addition, GWI is proposing sewerage tariffs of $417 monthly for residential customers and pensioners. For non-residential customers, the proposed rates are $2,860, $4,350 and $6,375 for small, medium, and large scale customers, respectively.
Members of the public are invited to participate in a public hearing on the proposed rates on Monday February 12th, at the Woodbine Room, Cara Lodge, located in Quamina Street.
Proposed Water Tariffs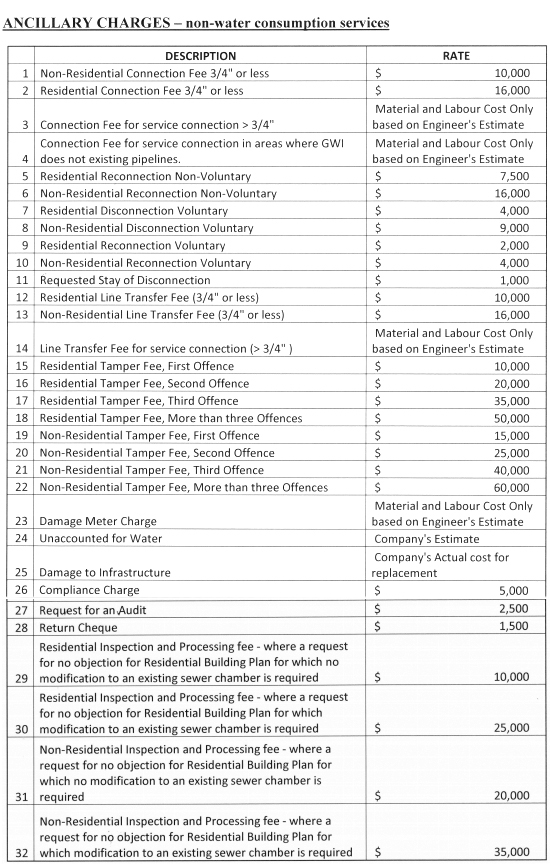 Around the Web