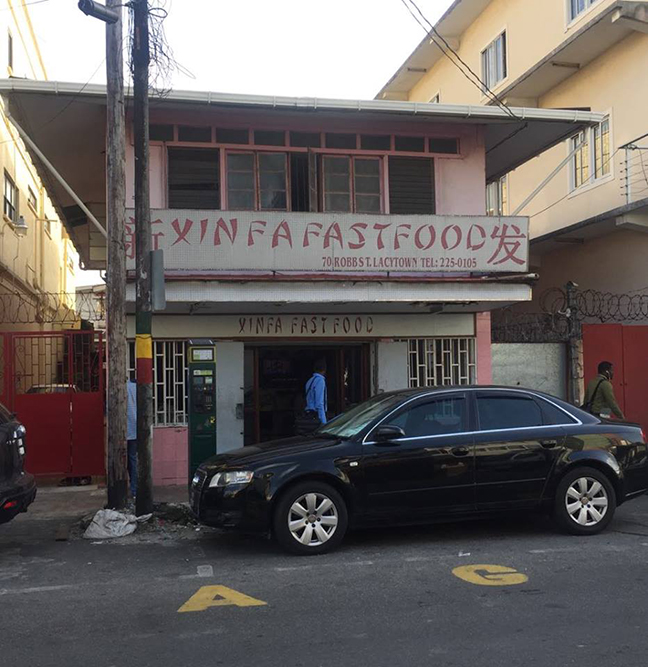 An armed bandit yesterday afternoon cornered and shot at a civil engineer in a Chinese restaurant on Robb Street, Georgetown before snatching his bag containing $5,000 cash and other valuables.
Cy Rodrigues, 38, a resident of Eccles New Scheme, East Bank Demerara put up resistance to the gunman resulting in a shot being fired in his direction which struck the wall.
The incident unfolded around 4 pm yesterday at Xinfa Fastfood restaurant located at Lot 70 Robb Street, Lacytown, George-town where Rodrigues had visited to order a meal.
The bag contained $5,000 cash, a quantity of Rodrigues' clothing and important documents including his ID card and bank cards.
Following the incident, the bandit entered the front passenger seat of a parked silver grey car and escaped east along Robb Street.
Rodrigues, this newspaper learnt, returned from Kamarang yesterday via the Eugene Correia International Airport, Ogle.
Reports revealed that following his arrival, he boarded a taxi and went to the Republic Bank's, Mon Repos branch where he made a withdrawal to transact some business.
He thereafter, went to Houston, EBD to conduct his business after which he visited the restaurant. As he sat in the restaurant, Rodrigues placed his bag on a chair next to him when he noticed a lone gunman entered, brandishing a gun. The gunman then approached Rodrigues and snatched the bag containing the valuables.
During the process, Rodrigues held onto his bag and the perpetrator fired a round into his direction, which struck the wall. He then escaped.
When Stabroek News visited the scene, the police were present and the restaurant was cordoned off to facilitate the investigation.
A waitress recalled that Rodrigues entered the restaurant and ordered a half fried rice. "He sit down right down there (she pointed to the table) and is just I done serve he the food and the robbery happen. Like everything happen so fast", the visibly shaken woman said.
The police have recovered a .32 spent shell at the scene.
The business is monitored by surveillance cameras. However, it is unclear if the camera was on at the time of the robbery.
Around the Web