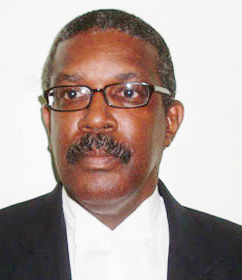 As the month requested to conduct due diligence checks on Justice Kenneth Benjamin comes to an end, Opposition Leader Bharrat Jagdeo has said he is very close to reaching a position on President David Granger's nominee for Chancellor.
"I am moving closer to a decision from the weight of the evidence that I see before me. I have consulted widely. I have spoken to a number of people and so I am listening to them and… also some people have sent me material and from all that I have seen, I [am] leaning to a position," Jagdeo said, when asked by Stabroek News at a news conference on Saturday whether he had reached a final decision.
The constitution requires that the president and the opposition leader agree on the appointment.
The matter was discussed between President David Granger and Jagdeo during a meeting on January 3rd. Jagdeo, however, asked for one month to consider Benjamin. As a result, a second meeting is set for February 7th, when Jagdeo is expected to inform the president if the nominee for the Chancellor post as well as that of acting Chancellor Justice Yonette Cummings-Edwards, who has been nominated for the post of Chief Justice, meet his approval.
"I asked for an additional month to do my due diligence work before I can consider the candidate," Jagdeo had told this newspaper shortly after the meeting.
At Saturday's news conference, Jagdeo made it clear that he was listening to the views raised by those he has consulted with and examining the information they have shared with him.
Justice Roxane George, SC is currently the acting Chief Justice. Both she and Justice Cummings-Edwards were appointed in March of last year as part of a temporary arrangement between Granger and Jagdeo. Their predecessors, Justices Carl Singh and Ian Chang SC, both retired without being substantively appointed Chancellor and Chief Justice, respectively.
Granger last month told a press conference that the person proposed for the position of Chancellor had accepted the nomination and Jagdeo would be consulted. He did not at that time identify the nominee nor indicate where the person currently resided.
This newspaper was however reliably informed that the president's top choice was Justice Benjamin. This was confirmed in the invitation sent to Jagdeo regarding the January 3rd meeting.
Asked if any of the persons whom he had consulted have raised any concerns about the process which led to the two nominations, Jagdeo said that there is a body of opinion out there which believes it should have been a more collaborative process. "There is that body out there that believes this whole process, this search, should have been more collaborative," he noted.
On the other hand, he said there is another group that believes that the persons nominated for the Chancellor post should have been selected from the local judiciary.
He made it clear that they will soon be made aware of the opposition's position on this matter.
Since it had become known that Justice Benjamin, who is Guyanese by birth, might be nominated to the post of Chancellor, his record as the Chief Justice in Belize has come under scrutiny. Justice Benjamin has had a backlog of judgments in the CARICOM member and Central American state. This has put him at odds with the bar association there.
It was recently reported in the Belize media that despite assurances Justice Benjamin would be unable to deliver all 32 of his delayed judgments and this could result in the Belize Bar Association making good on its threat to file proceedings to have him removed from office for misconduct.
Amandala newspaper in a December 12th publication reported that Justice Benjamin would be unable to conclude the backlog by the end of the legal year
According to the Belize Judiciary website, Justice Benjamin received his legal training from the University of the West Indies and the Hugh Wooding Law School in Trinidad and Tobago. It stated that he returned to Guyana, where he practised privately, and served as a Magistrate and the Assistant Judge Advocate for the Guyana Defence Force.
Additionally, Justice Benjamin, served on the Court of Appeal in the Eastern Caribbean Supreme Court, sitting in both St. Lucia and St. Vincent. He also served as the Presiding Judge for the Criminal Division of the High Court in St. Lucia and the High Court Judge in Antigua, British Virgin Islands and Grenada.
Prior to his appointment in Belize in 2011, he served as Chief Magistrate in Antigua and Barbuda. Justice Benjamin, the website said, is a member of the Commonwealth Magistrates and Judges Association, a former Rotarian, a former cricket executive in Antigua and a Fellow of the Commonwealth Judicial Education Institute.
Around the Web